I am always looking for new lunch ideas for my kids, especially protein-packed lunches, so that I know they will stay full throughout the school day! This post has 3 ideas using Success® Tri-Color Boil-in-Bag Quinoa so the lunches can be exactly what we need–healthy AND easy!
This post was sponsored by Success® Rice, however, the ideas and opinions are my own!
Why protein is important at lunch time
Protein is one of the three macronutrients, and the one that we know most for its reputation as a muscle builder. But did you know protein also helps with things like immunity, tissue repair, and gives us that feeling of fullness and satisfaction after a meal? Protein has many important functions in the body (in fact, almost every process in the body depends on proteins!), and it's one thing I try to make sure to include in all of my kids snacks and meals. 
Protein is important at every meal, but I like to be really conscious of offering it to my kids at lunch. Lunch can be a more 'grazing' type of meal for some kids- sandwiched between morning and afternoon snacks, and they may not be as hungry as they are at breakfast or dinner. But filling up on snacks or grazing throughout the day likely won't keep them full until dinner and that late afternoon crash is real! So if my kids may only be eating a portion of what I pack for lunch, I want to make sure those bites pack a punch! Protein is the best way to do that. A couple bites of protein rich food will keep a kid fueled longer than a few bites of carbs, and will give their body that satiated feeling to keep.
How much protein do toddlers and kids need
Toddlers ages 2-4 need, at a minimum, about 13-15 grams of protein per day and kids ages 4-9 need at least 20 grams. To put that into context, 20 grams of protein over a whole day might look like 1 egg (6g), ¼ cup of Success Tri-Color Boil-in-Bag Quinoa (6g), ¼ cup of Greek yogurt (4g give or take), and 1 oz of ground beef (4g). When you look at it like that, protein goals aren't too out of reach, but having some products in your cabinet that can help you get there easily can be a game changer!
But how much is too much when it comes to protein? 
Despite what some supplement companies may make you think, we actually don't want to overload on protein- especially for kids. Excess protein can be hard on younger kidneys, so the 'more is more' approach with protein is not actually true. you won't be building stronger muscles and bones if they eat way over the recommended amount of protein for their age. 
I also want to mention another important nutrient for kids that is closely related to protein: iron. 
Iron is an important component of a protein molecule in the body called hemoglobin that is responsible for distributing oxygen to the whole body (aka making all our muscles and tissues work!). So basically, we need both! It's important to consume adequate amounts of dietary protein and iron to make sure our bodies have the building blocks for these molecules that perform important functions in the entire body system. And when the midday crash is just around the corner, consuming a lunch rich in protein AND iron can help stave off the slump and keep your child's whole body fed and energized.
My kids love dairy – is that good for protein?
A note about dairy: dairy is a great source of protein, but it *can* interfere with the absorption of iron. It's not something I'm super worried about, but as a rule of thumb, I like to limit dairy servings to about 2-3 per day so it doesn't crowd out other nutrients, like iron. Studies mostly show that dairy foods (rich in calcium) can inhibit iron absorption in a single meal, but with little long-term effect on iron absorption. As long as you're serving iron-rich and protein-rich foods regularly, I wouldn't worry about it! Dairy is still a great protein option in addition to animal protein sources and other plant-based protein sources like Success Quinoa! 
Why Quinoa is a Great Lunch Option
If you're looking for ways to up the protein in your child's lunch but want to avoid nuts (hello, nut-free campuses everywhere) and limit deli meat, I've got a couple ideas for simple, protein-rich lunches that kids will love. All of these lunches include Success Tri-Color Boil-in-Bag Quinoa so that you don't need to spend a ton of time prepping! And because these recipes use Success Quinoa, they're also rich in iron, providing an optimal combination of these two important nutrients at the same time! Success Tri-Color Boil-in-Bag Quinoa has 12g of protein and 4 mg of iron per bag- so you can rest assured that every bite your child takes is giving them a bit of both. 
Here are my ideas!
Lunch #1: 
Cheesy quinoa, carrots and hummus, blueberries
To make cheesy quinoa:
Cook Success Tri-Color Boil-in-Bag Quinoa according to package directions
Add about ½ the quinoa from one bag to a medium bowl (for one serving, use the whole bag for 2 servings)
Stir in 2 tbsp plain Greek yogurt (2% or whole milk version) and 2 tbsp shredded sharp cheddar cheese per serving. Add a sprinkle of salt and pepper to taste!
Serve warm.
Lunch #2: 
Simple quinoa with butter & salt, clementines, kiwi, cheese stick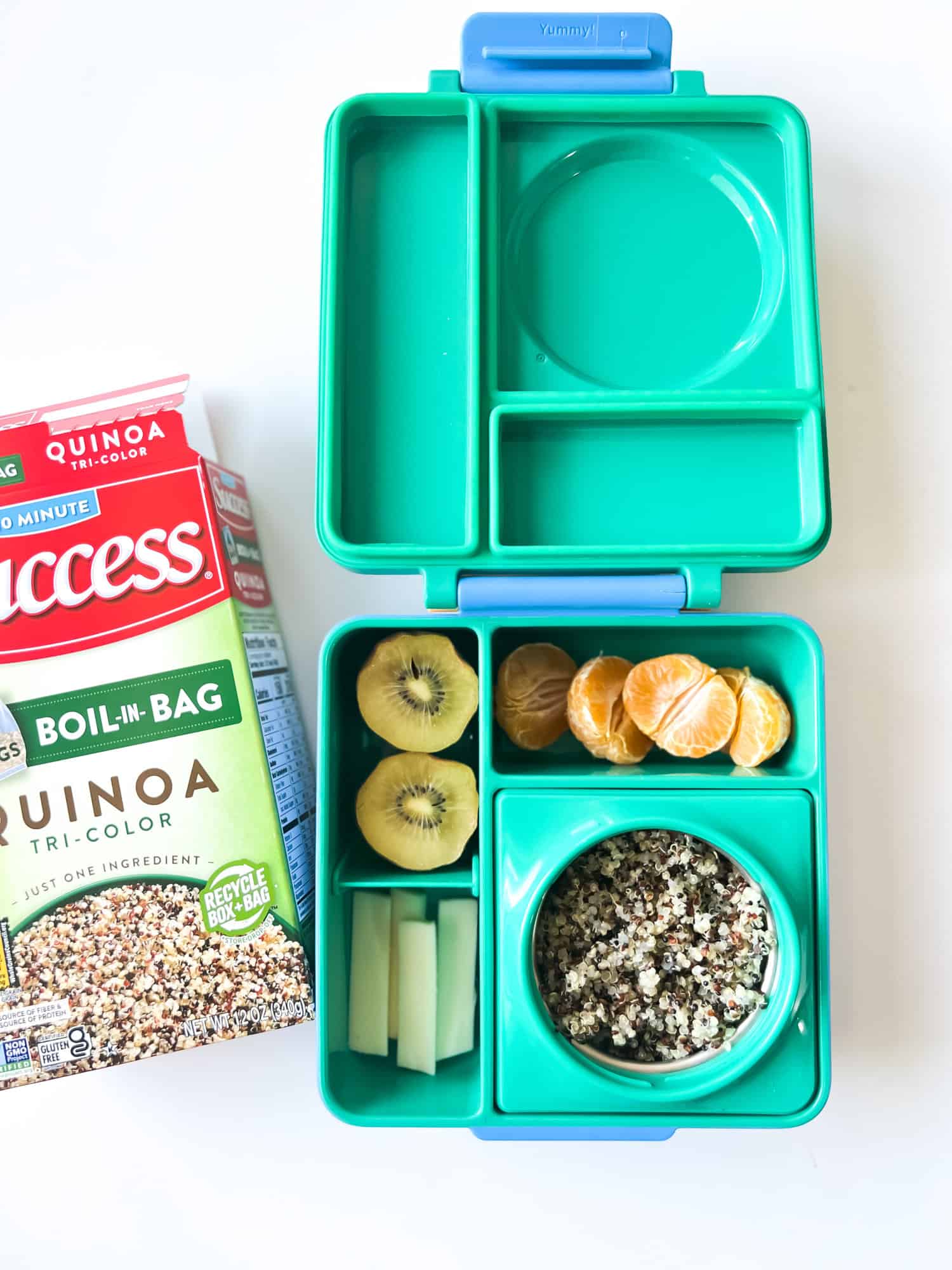 To make simple quinoa:
Cook Success Tri-Color Boil-in-Bag Quinoa according to package directions
Add about ½ the quinoa from one bag to a medium bowl (for one serving, use the whole bag for 2 servings)
Stir in 2 tsp butter until melted and a sprinkle of salt.
Serve warm.
Lunch #3:
Maple Raisin Quinoa, blackberries, cucumbers, snap peas, Ranch for dipping
To make Maple Raisin Quinoa:
Cook Success Tri-Color Boil-in-Bag Quinoa according to package directions.
Add about ½ the quinoa from one bag to a medium bowl (for one serving, use the whole bag for 2 servings).
Stir in 1 tsp maple syrup, 1 tsp butter, 1.5 tsp ground flax seeds, ¼ tsp cinnamon, 2 tbsp raisins, and a sprinkle of salt to taste.
Can be served warm or cold!
All of these are healthy and balanced and have at least 8 grams of protein- which is perfect for a kid!
Lunch packing FAQs:
What are those lunchboxes with the thermos?

It's these!

How do you keep the quinoa warm when you pack it?

I pack it right before leaving for school in the morning. Using a thermos, pour boiling water into the thermos for about 5 minutes to heat it thoroughly. Then, pack up the quinoa (you can reheat it in the microwave in a separate dish if you prepared it the night before) and spoon it into the thermos.

Where can I buy Success Tri-Color Boil-in-Bag Quinoa?

Use the store locator here!