This post contains affiliate links. As an Amazon Associate, I earn from qualifying purchases at no extra cost to you.
Do the toddler feeding questions ever end? I mean, it's like you figure out how to navigate the baby stage…and then BAM! They turn one and everything flips upside down again. You're wondering about toddler feeding schedules, toddler snack and meal ideas, drinks for toddlers, and if and how milk even fits in anymore. And as if that's not enough to figure out, beyond what food to give them, you also have to figure out what the heck that food goes IN and ON! 😅
Thank goodness you don't have to figure this all out alone, right?! You've got me in your corner, and I'm here to help you make sense of ALL the toddler feeding things. Including today's topic: the best cups for toddlers. In this post, I'll help you clear up any cup confusion by walking you through the different types of cups for toddlers, explaining which ones I recommend (and don't), and giving you shoppable links for all my favorite options!
The Types of Cups I Recommend for Toddlers
So, the first thing you'll notice about this list is how I only recommend open cups and straw cups. That means there are no sippy or 360 cups in sight, and it's because straw and open cups are preferred by dentists, pediatricians, OTs, and SLPs. (And me!)
FAQ: What Are The Best Sippy Cups for Toddlers?
I actually don't recommend using a traditional sippy cup at all. You can totally skip it and go straight to straw or open cups! That's because countless speech-language pathologists have cautioned against the continued use of traditional sippy cups, as they can affect proper oral motor development. According to this article on ASHA Wire, written by speech-language pathologist and feeding specialist Melanie Potock, sippy cups can:
Get in the way of proper swallow pattern development
Force the tongue forward, which can impede speech and language development
Keep the mouth open longer, which can affect facial development
FAQ: What About 360 Cups?
There is also some concern over the use of the 360 spout cups. If they're used too frequently, some experts believe they may cause improper or problematic drinking patterns. This isn't my area of expertise, so I follow the guidance of speech-language pathologists here, and I'd recommend you do, too! 
I know the no-sippy-cup thing might be a bit of a bummer—or something to wrap your head around if you grew up using one! (OR it may be something you have to help your parents wrap their heads around if they're like, "You used one and YOU turned out just fine!" 😂) 
But like so many other topics in child development and parenting, when we know better, we do better. And lucky for us, there are TONS of awesome straw cup and open cup options available to help us follow the most current recommendations. Here are my picks!
Best Straw Cups for Toddlers
#1 NuSpin Kids 8 oz Zoomi Straw Cup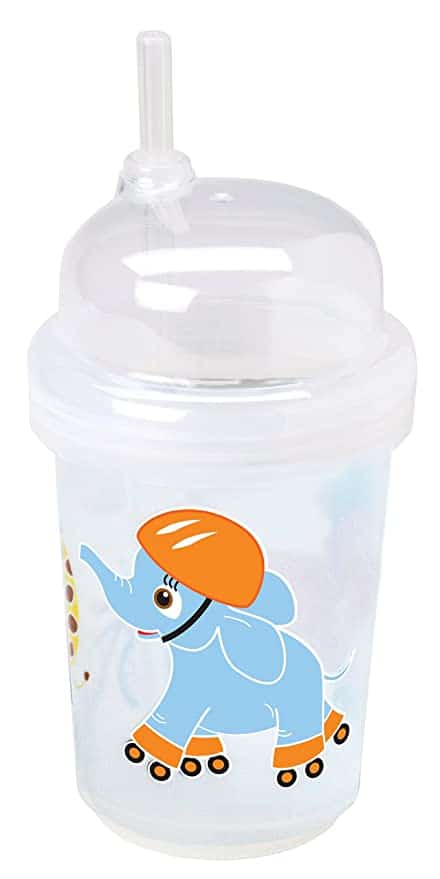 These straw cups are easy for your little one to drink from. They're the perfect size if your child is around the age of one or two years old. I used this cup frequently with Emilia when she was a baby and in the 1-year-old range! 
I love these cups because they're made of FDA-grade silicone and polypropylene and because they're free of BPA, phthalates, PVC, nitrosamines, latex, and lead. Also, because they're dishwasher-safe and easy to clean. (Mama win!)
Note: These are low-spill for sure, but not completely spill-free! They wouldn't pass the "chuck it in the diaper bag" test.
#2 Munchkin Cool Cat Stainless Steel Straw Cup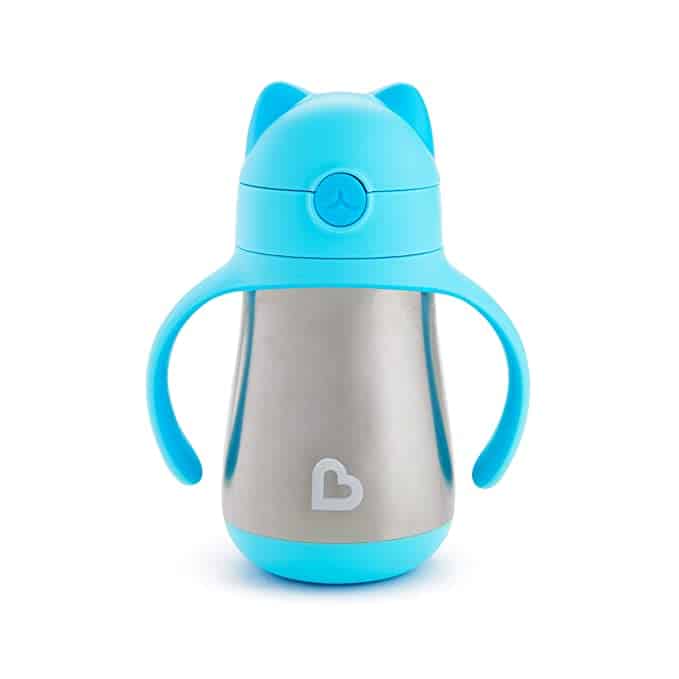 If you prefer stainless steel, these are my favorite cups! They're completely spill-proof, but the top part is really easy for little hands to open and close. And, the handles make it easy for little ones to hold on!
I also love that these cups are dishwasher safe and BPA-free. Plus, you can disassemble them and thoroughly clean all the parts. (This isn't always the case for cups with built-in straws! And when they don't come apart, they can get really gross inside.) 
#3 Zak Designs Leak-Proof Tumbler with Straw
These are the cups I find myself reaching for most often when I need to serve water to Emilia at home. They're a win for the whole fam! Parents love them because they're BPA-free, dishwasher safe, and easy to clean. And toddlers love them because they come in fun designs with characters on them. (Frozen? Paw Patrol? Toy Story? You name it, they've got it!)
These cups are 15 ounces, so they're quite big! Also, they have no handles, and they're not completely spill-proof. (They can tip over without a big spill, but if you flip it and shake it, expect some drops to fly!) So, I recommend these cups for toddlers over 2 years old. 
They do have a stainless steel version of these, too!
#4 Simple Modern Kids Water Bottle with Straw Lid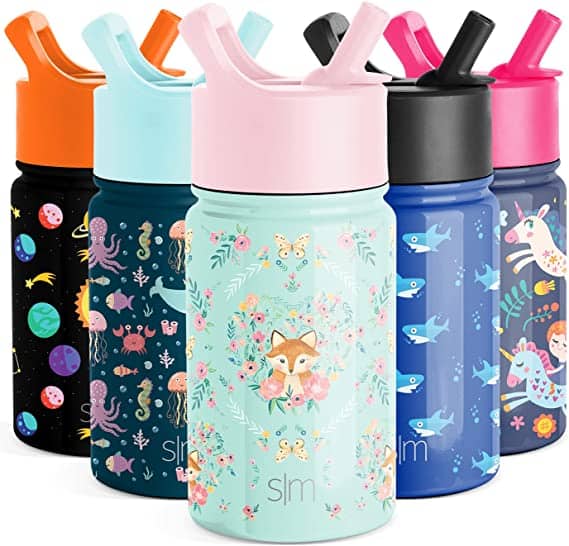 I like these stainless steel water bottles for taking out in the car or going to preschool and daycare. They seal up completely so they don't leak when they're closed. And even though they're stainless steel, they're lightweight! So they keep water super cold without weighing down your toddler's backpack all day. I also like that these bottles are durable, dishwasher-safe and that the straw is BPA-free.
Just a heads up– Someone in an Amazon review claims that the lids will get moldy, but I've been using these cups for well over a year and have had no issues! I use the dishwasher for a solid cleaning.
---
Teach Your Baby or Toddler to Drink From A Straw
Need a quick tutorial on how to teach your little one to drink from a straw? I got you! Just press play.
---
Best Open Cups for Toddlers
I love these open cups for water, milk, and juice.
#1 Ezpz Mini Cup
If you're concerned about oral development, these ezpz Mini Cups are a great option for you because they were designed by a pediatric feeding specialist! They're made from 100% silicone and even though they might look a little flimsy, they're super sturdy and toddler-proof. They have a weighted base that stops them from toppling over and a non-slip grip that keeps them from ending up on the floor along with half your toddler's milk! Plus, they're dishwasher- and microwave-safe, toxin- and BPA-free, and hypoallergenic.
I really like this cup for juice, because the cups holds just 4 ounces – the amount the American Academy of Pediatrics recommends to limit juice intake to daily. This way you can pour a cup of juice and know it's the right amount without having to measure anything!
#2 Munchkin Splash Toddler Cups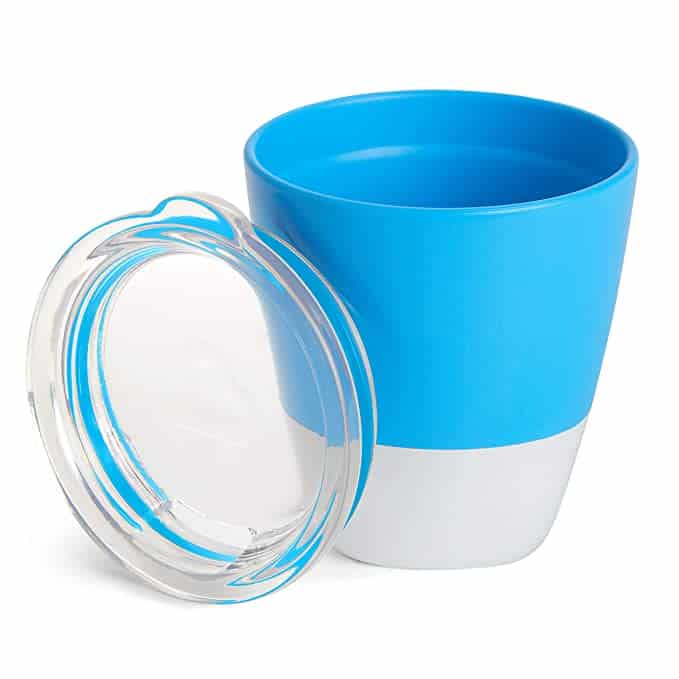 If you like the open-cup style but prefer having a lid—or at least having the option to use a lid!—the Munchkin Splash cup is the perfect middle ground. And, it's still dishwasher-safe, and BPA-free. But it is a bit bigger, holding up to seven ounces of liquid instead of just four. I also like that this cup is a bit more affordable and comes in a four-pack!
Best Smoothie Cups for Toddlers
Elk and Friends have my very favorite toddler straw cups for when you're at home. The straws make them perfect for thicker drinks like kefir and smoothies, and they have a little straw stopper on them so your little one can't pull the straw out and splatter smoothie everywhere in the process! Plus, they pass the smash test. I have literally dropped these on my floor before just to see if they'd break, and they don't! The silicone sleeve makes the glass safe. (But they do have a stainless steel version too if that makes you feel better!)
The only consideration for you is that they're not completely spill-proof, so I wouldn't necessarily recommend them on the go.
#1 Elk & Friends Glass Mason Jars with Silicone Sleeves & Straws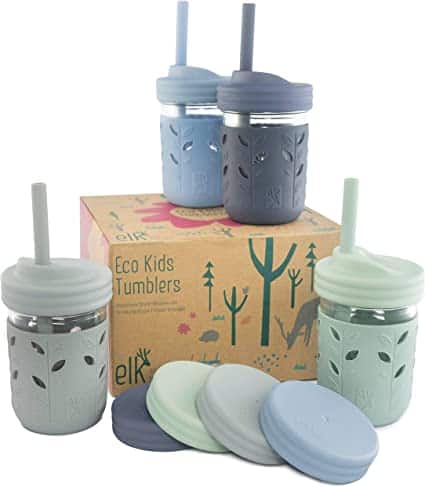 This is the 8-ounce glass version. It's a multi-colored 4-pack for just under $40! I love this option personally—the straws are made of FDA food-grade silicone, and everything is BPA, phthalate, and PVC-free. And other than the lids, they're dishwasher, freezer, and microwave safe.
We sometimes freeze homemade chicken broth in these cups to save for later!
#2 Elk and Friends Stainless Steel Cups with Silicone Sleeves & Straws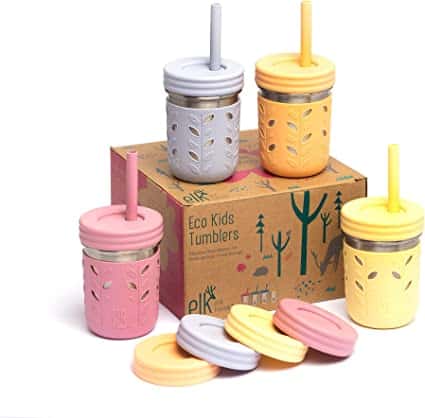 This set of four cups is made of stainless steel so it's break-proof, and the cups are a bit bigger at 10 ounces each. Just like the glass version, a set comes in under $40 and everything is food safe, with straws and sleeves made of FDA food-grade silicone and stainless steel. They're also BPA, phthalate, and PVC-free lids and dishwasher- and freezer-safe. (But these can't be microwaved, since they're metal!)
BPA-Free Cups for Toddlers
Most of the toddler cups I included on this list are BPA-free, but I'll list just those that I know are 100% BPA-free here too, to make shopping super easy for you if BPA is a concern.
BPA-Free Straw Cups
BPA-Free Open Cups
Best Drinks for Toddlers
Okay, so you've got the cup sitch all sorted out. Now let's talk about what to put in it! The best drinks for toddlers are milk and water, but juices are okay too in moderation. 
#1 Water
Toddlers will typically drink about one to four cups of water each day, although that's not exact, and can change a bit day-to-day based on factors like weather and how many hydrating foods they eat.
#2 Milk
Milk is another great option for toddlers! Until they're about 2 years old, stick with whole milk or a nutritionally-similar plant-based option. (I like pea milk or fortified soy!) Just limit milk to under 20 ounces a day if your child is over the age of one.
Also keep chocolate milk or other flavored milk to a minimum, to avoid adding lots of added sugar to their day. If they will ONLY drink flavored milk, I'd mix it with plain milk so you can start reducing the amount of flavored milk.
#3 Juice
Juice is a popular option, but one to limit. I like to offer 100% juice no more than once a day, with a serving being about 4 ounces. You can even water it down if you like! Because yes, with juice, they do get some vitamins and nutrients, but it's best for them to get all that from the whole fruit as much as possible.
#4 Smoothies
Smoothies are a great way to get a little extra nutrition into your child's day. They can be a lifesaver for picky toddlers—sometimes it's just not humanly possible to get them to try kale any other way! But you can start offering them as early as the baby stage. Just opt for kid-friendly smoothie recipes without any added sugar or protein powders.
Drinks I'd Skip
There are also some drinks I'd recommend skipping altogether for toddlers, like toddler milk, toddler formula, and anything caffeinated or sweetened with sugar.
Learn more about which drinks to serve and which ones to avoid in this blog post on drinks for toddlers!
Shop All My Toddler Feeding Favs!
I have a whole Amazon store FILLED to the brim with all of my go-to toddler feeding items, from cups and utensils to vitamin d supplements to toddler-friendly cookbooks and beyond! If you're ready to up your toddler feeding game, this is the one-stop-shop for you.