These easy BBQ Chicken Wings are baked to crispy perfection and finished under the broiler with your favorite barbecue sauce. With their crispy skin and a sticky, sweet sauce these barbecue chicken wings definitely belong at your next party!
No game day party is complete without some crispy wings! I've got a ton of tips for how to get your wings super crispy without frying, so be sure to read through the whole post.
I've been making wings like this for years, with flavors like Garlic Parmesan Chicken Wings and Buffalo Chicken Wings, and I've definitely learned a few things along the way.
Why I Love These BBQ Chicken Wings
Crispy wings without the mess of frying –

I'm not a fan of deep frying at home, so I began making chicken wings in the oven. It wasn't until I began using a coating of flour, baking powder and spices that I discovered it was easy to achieve crispy chicken wings right in the oven.

Sweet and spicy sauce – Adding barbecue sauce was a no-brainer. To finish them off I place them under the broiler to caramelize them and get that super sticky sweet finish.
Make them an appetizer or make them a meal! Chicken wings are fun to eat, so you can share them as an appetizer for game day or make them as a fun meal for your family.
Ingredients For Barbecue Chicken Wings
Staple ingredients make for a simple recipe.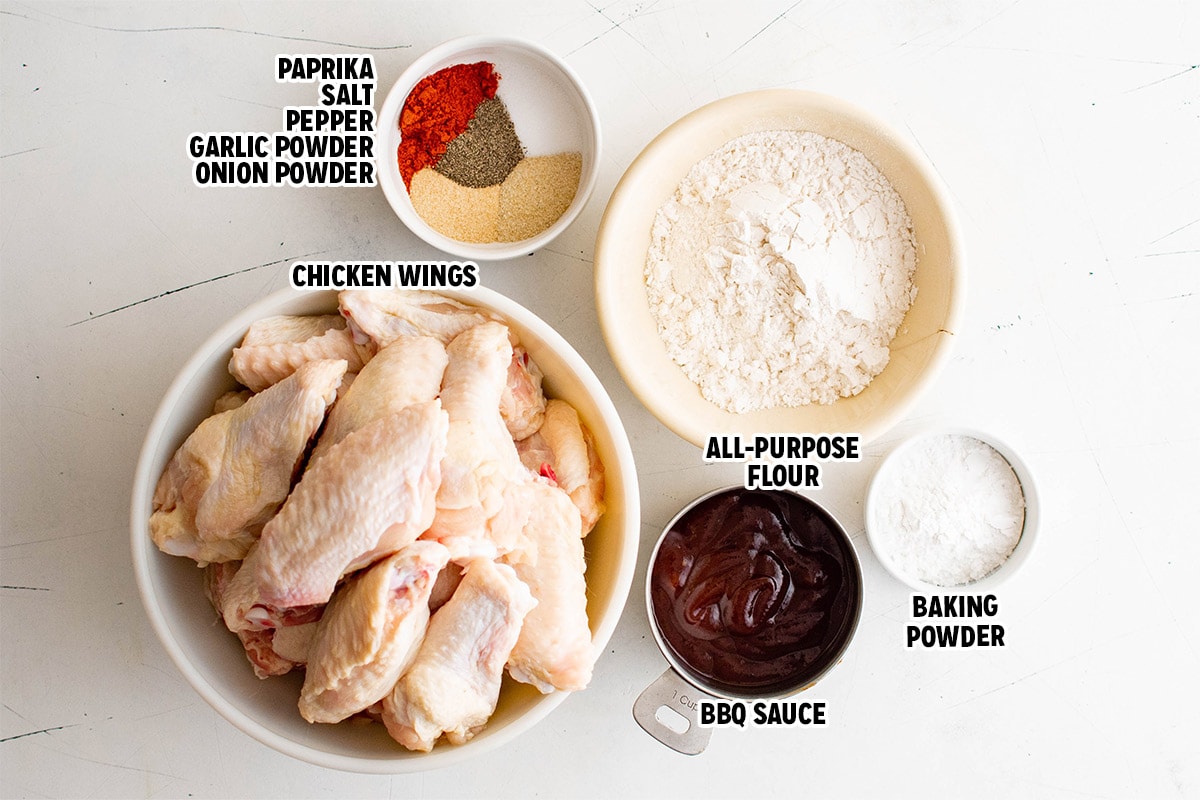 Chicken Wings – It's your call if you want to use all flats, all drums, or a mix. Your local grocery store should carry them in a variety of ways. You can purchase the kind that are connected but that's a lot more work cutting and trimming.
All-Purpose Flour – Part of the coating for the wings.
Baking Powder – When combined with the fats in the skin, the baking powder helps the skin to become crispy. It's super important to tap the wings on the edge of the bowl to remove any excess so you won't taste the baking powder.
Seasoning – Paprika, garlic powder, onion powder, kosher salt, and black pepper.
BBQ Sauce – Go with your favorite. You can do spicy or sweet, or make a simple Homemade BBQ Sauce. Our favorite brand is Sweet Baby Ray's.
How To Make Baked BBQ Chicken Wings
This is a visual overview of the steps to make this recipe. Get a detailed list of ingredients & instructions in the recipe card below.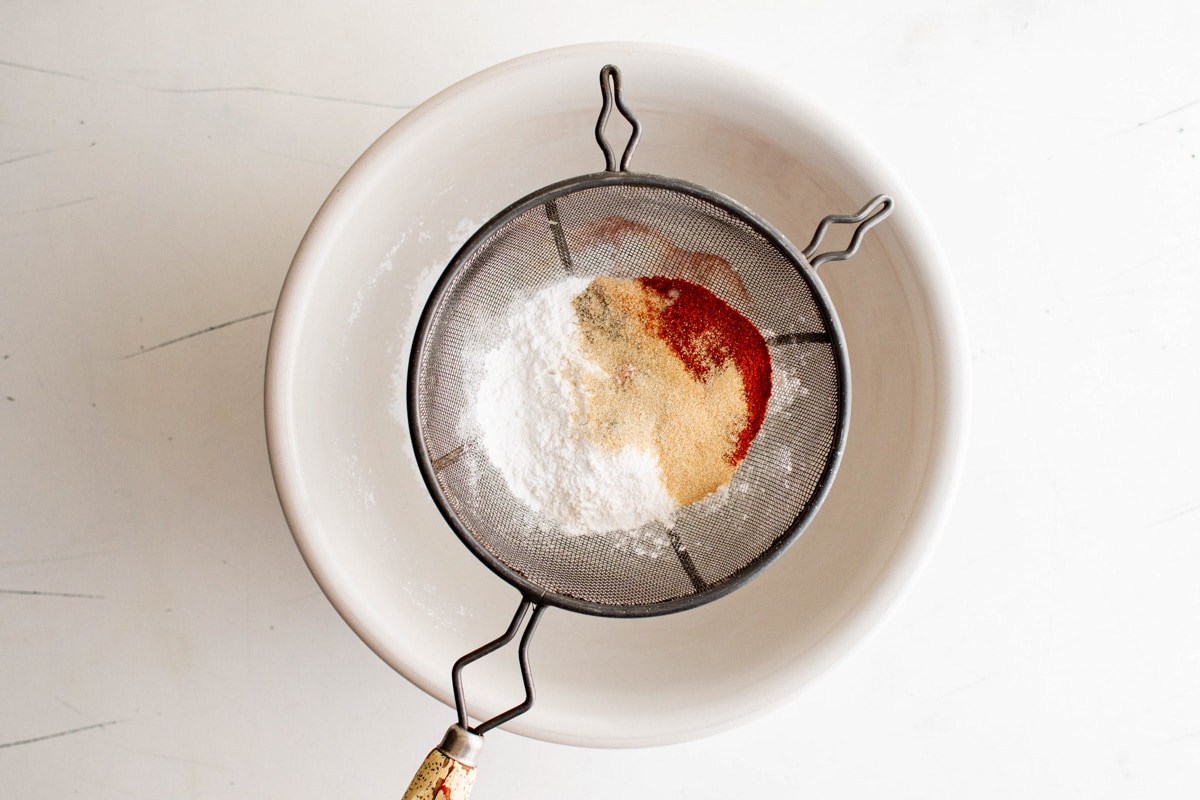 Combine Coating – In a large bowl, sift together flour, baking powder, and seasonings. Sifting is a great way to make sure the ingredients are really well mixed together.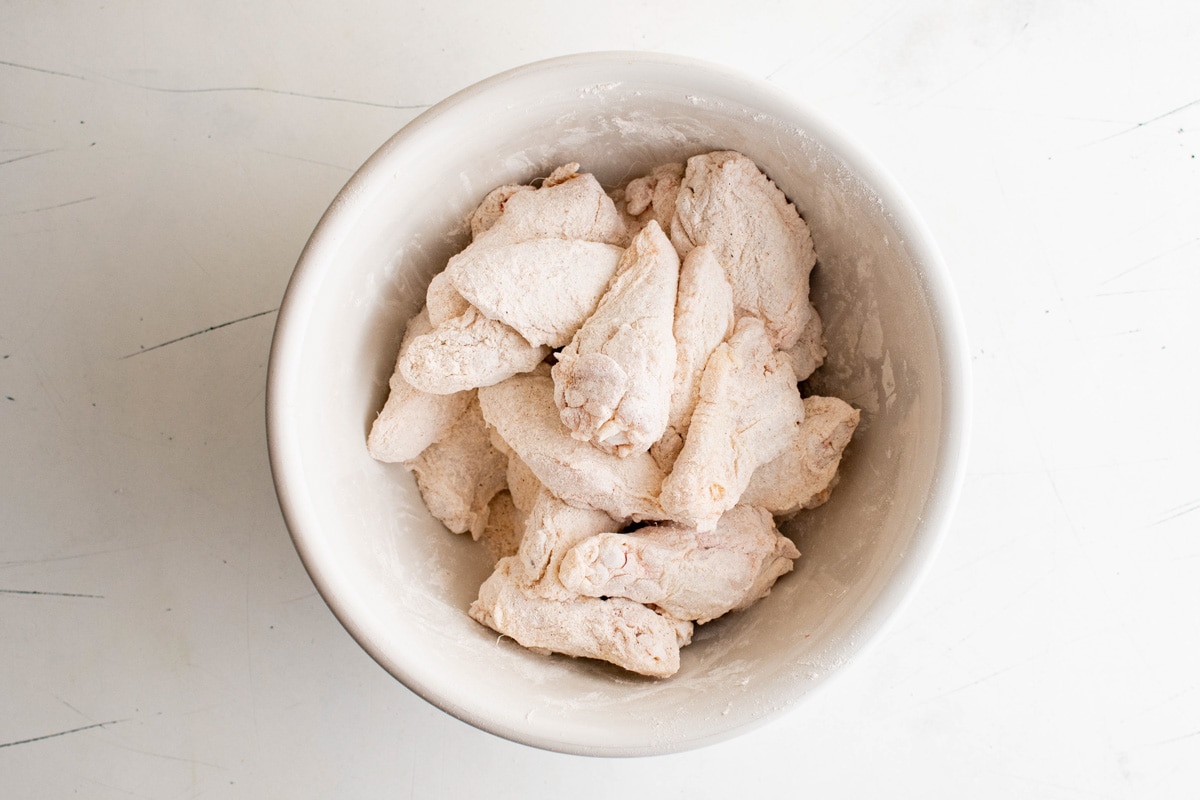 Coat Wings – Using kitchen shears or a small, sharp knife, trim any excess skin from the wings but leave most of the skin intact. Pat the wings dry then toss the wings in the flour mixture to coat.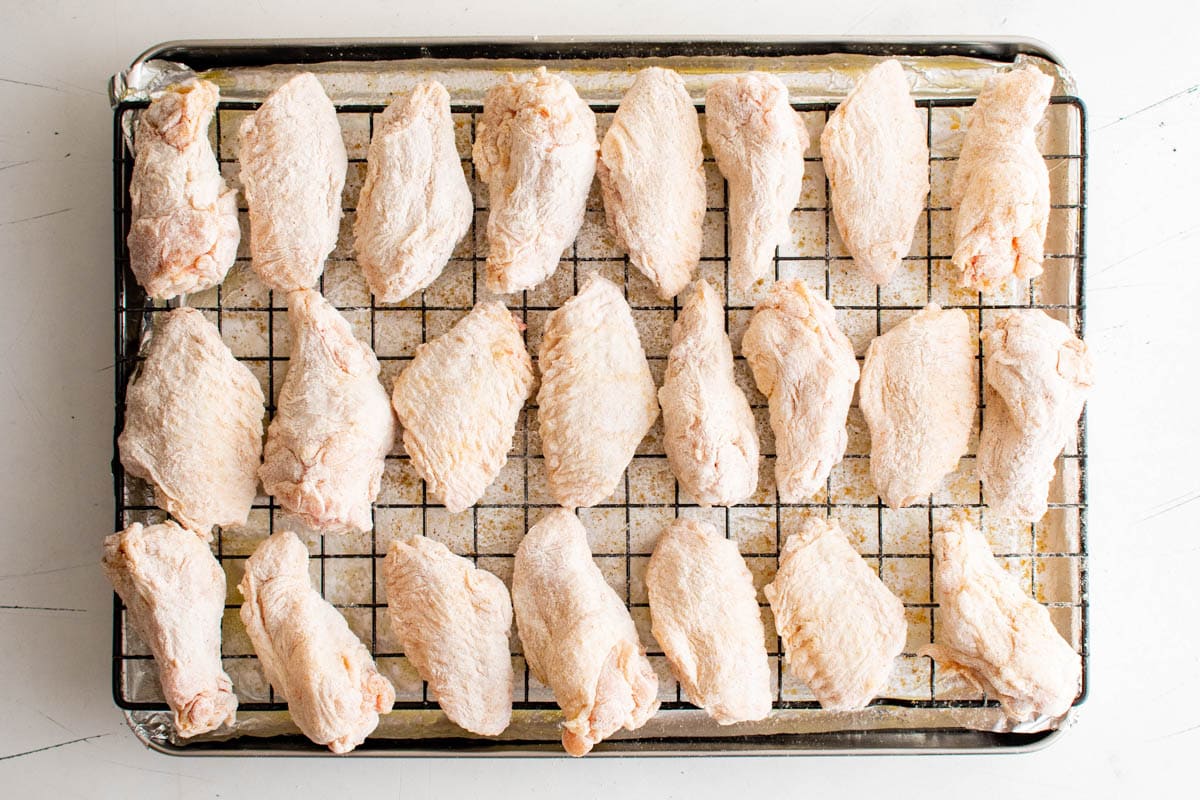 Arrange On the Baking Rack – Tap off excess flour on the edge of the bowl, then arrange the wings on a wire rack that you've set over a baking sheet.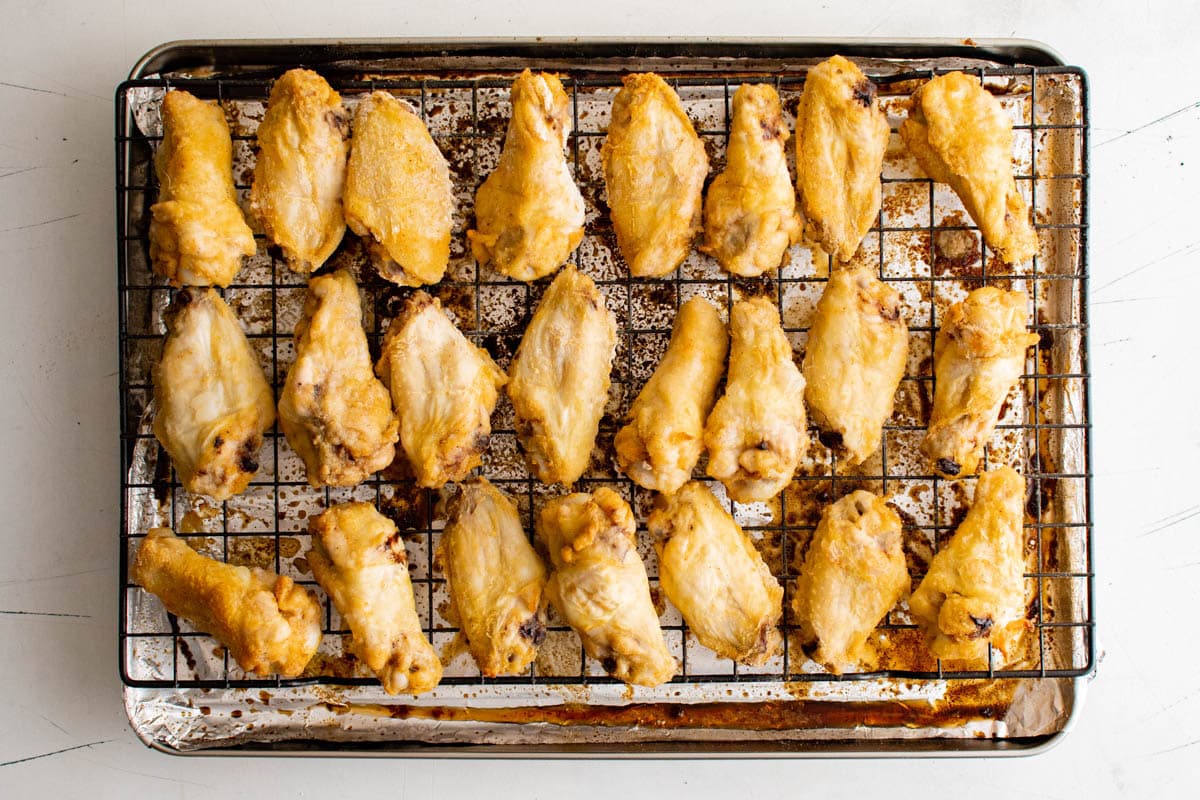 Bake the wings for about 15-20 minutes, then flip them over and bake for an additional 10-15 minutes. Remove the baking sheet from the oven and preheat the broiler while you brush the wings with BBQ sauce.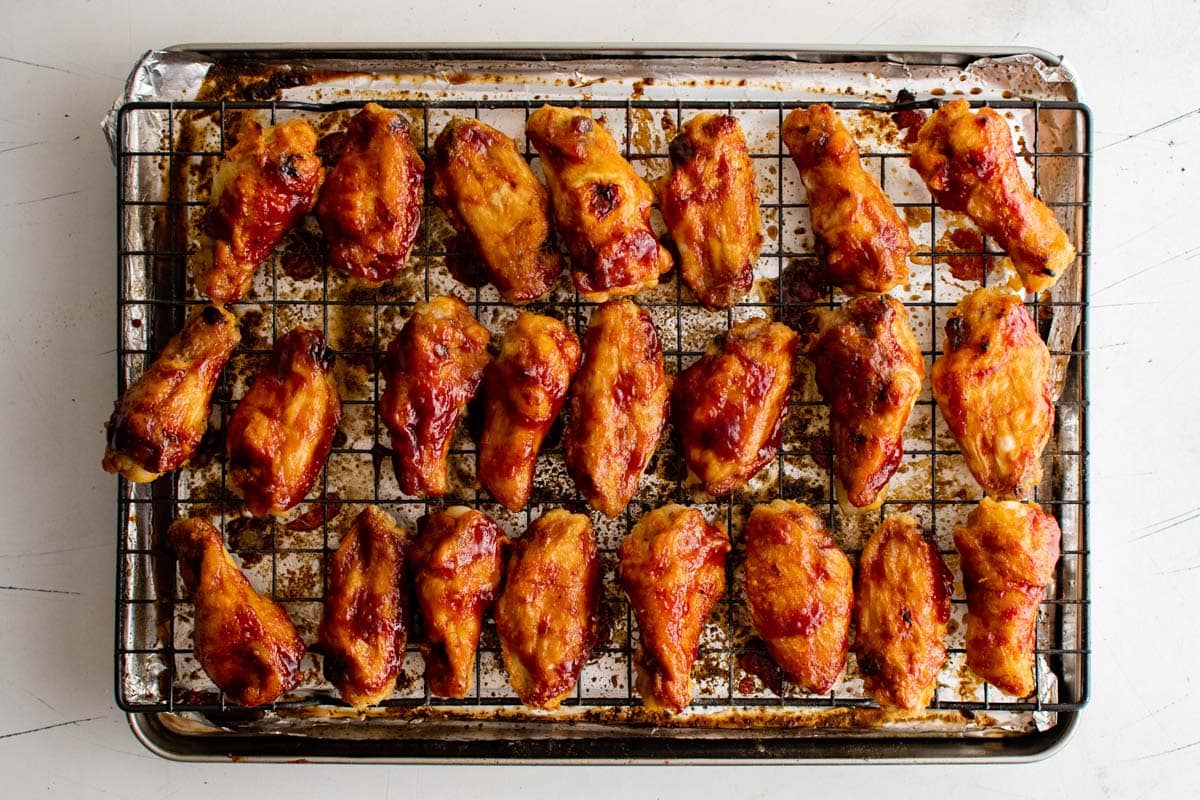 Broil – Place the sheet pan back in the oven under the broiler and broil for about 5 minutes to caramelize the bbq sauce. Do watch closely so they don't burn. Cool slightly before serving.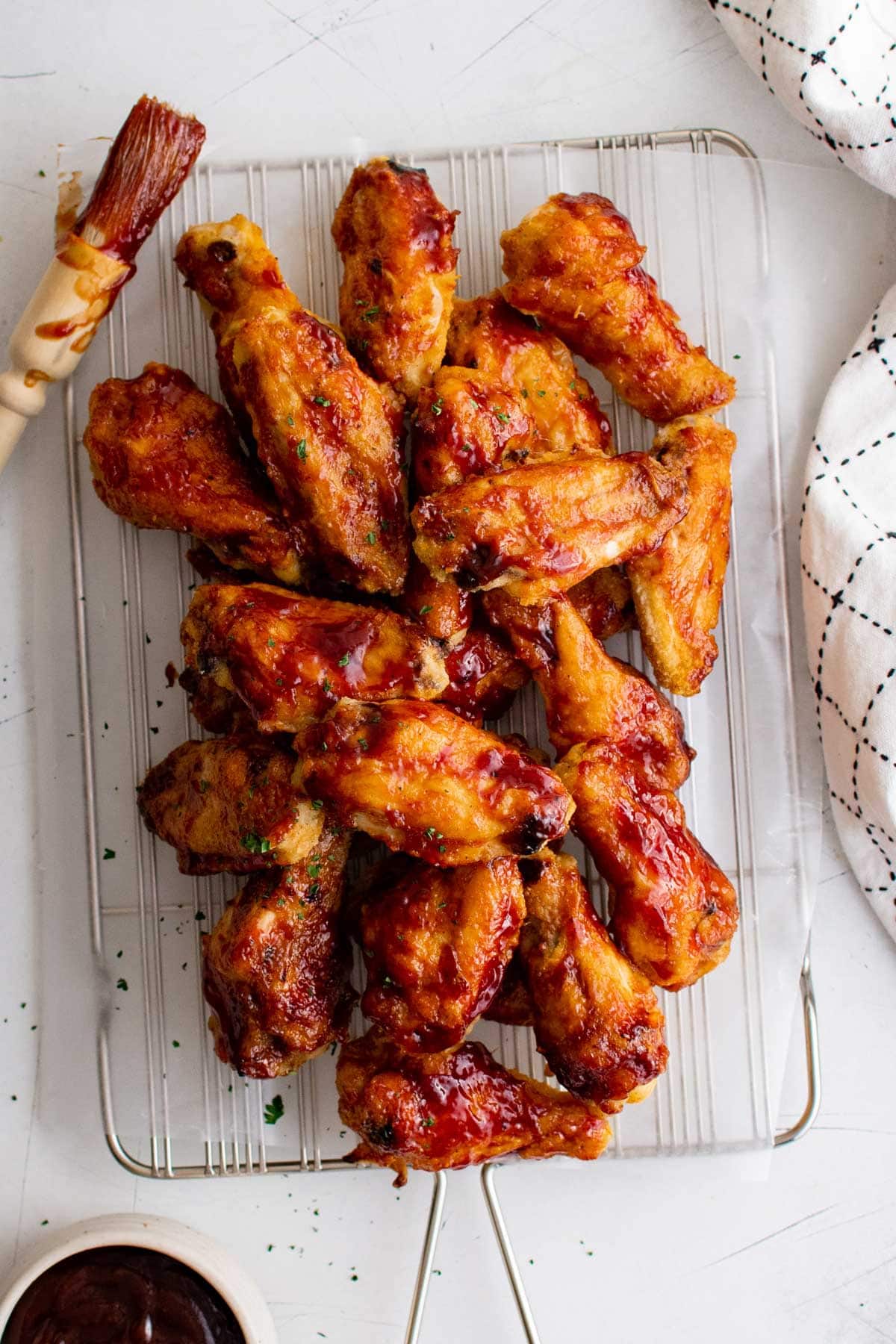 FAQs
Should you put sauce on wings before or after cooking?
I prefer to sauce my wings after they cook and then broil them for a few minutes. This way you get crispy barbecue chicken wings with a sticky, caramelized sauce. Adding the sauce too early can result in soggy wings.
How long does it take to bake BBQ chicken wings?
It takes about 30-35 minutes to fully cook chicken wings in the oven.
What is the best way to put sauce on wings?
There are three ways you can sauce your wings. 1) Brush on the sauce after they've cooked and then broil them; 2) Place the cooked wings in a large bowl then toss the wings in the sauce using tongs; 3) Don't sauce them – dip them in sauce as you eat them instead!
Can you cook these in the air fryer?
For Air Fryer Chicken Wings, preheat the air fryer to 375℉ and place the wings, spaced an inch or so apart, and air fry for 9-10 minutes per side. Brush with BBQ sauce and air fry for a few more minutes, or until sauce is sticky. Depending on the size of your unit, you may need to do this in batches. Overcrowding will result in soggy wings.
Storage
If you have leftovers, store them in a resealable plastic bag or airtight container in the fridge for up to 3-4 days. Reheat in the oven, air fryer, or microwave. They won't be quite as crispy when reheated.
Freeze for up to 3 months and thaw before reheating. Reheating in an air fryer is your best chance for getting them crispy again as the texture will change as they thaw.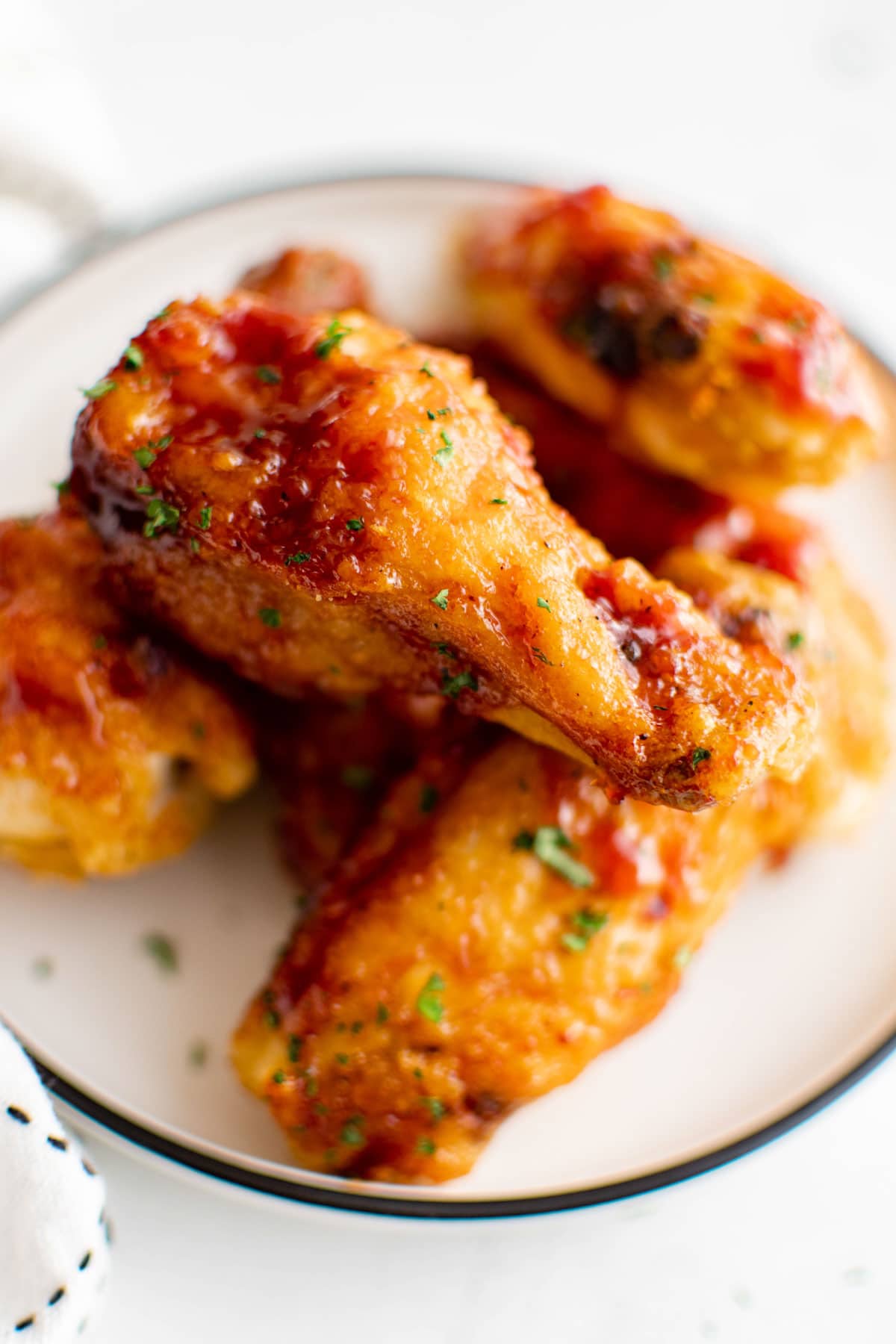 Helpful Tips
Pat them dry. When you take them out of the packaging, you need to pat them dry really well. The dry they are the crispier they will be. If you have the time, let them sit on a baking rack in the fridge overnight, uncovered, to dry out even more.
Flour + baking powder. Some recipes don't use baking powder but it really does help with the crispy skin.
Tap off excess flour. Be sure to tap off any excess flour mixture before placing these on the rack. This will keep your wings from tasting bitter from the baking powder.
Use the rack. If you don't have one, get one. They are really inexpensive and super useful in the kitchen.
Don't crowd the pan. Space your wings far enough apart so they aren't touching and the air can circulate around them for even cooking.
More Appetizers To Try
If you've made this recipe, please come back and leave us a star rating or a comment below. Or, tag us on social media @yellowblissroad or #yellowblissroad for a chance to be featured.
Preheat oven to 450 degrees. Line a baking sheet with foil and place a baking rack on top. Spray generously with cooking spray.

In a large bowl, sift together dry ingredients. Set aside.

Trim any excess skin from chicken wings (leaving most of the skin in tact). Pat dry and place each wing in the flour mixture, stirring to coat each wing.

Place wings on the baking rack, close together but not touching.

Bake for 20 minutes, flip wings over and bake for another 10 minutes. Remove baking sheet from the oven and move the oven rack to the top position. Switch the oven to broil.

While the broiler is heating, generously brush each wing with barbecue sauce. Return the pan to the oven and broil for about 5 minutes. Watch closely as they can burn easily.

Remove pan from the oven and cool for a few minutes before eating. Serve with more BBQ sauce for dipping.
I'm not a fan of deep frying at home, so I began making chicken wings in the oven. It wasn't until I began using a coating of flour, baking powder and spices that I discovered it was easy to achieve crispy chicken wings right in the oven.
Calories: 128kcalCarbohydrates: 5gProtein: 9gFat: 8gSaturated Fat: 2gPolyunsaturated Fat: 2gMonounsaturated Fat: 3gTrans Fat: 1gCholesterol: 37mgSodium: 301mgPotassium: 96mgFiber: 1gSugar: 2gVitamin A: 109IUVitamin C: 1mgCalcium: 68mgIron: 1mg