No more scattered food containers, mismatched lids, and the struggle to find that one missing piece because this year, we're getting ORGANIZED.
This post contains affiliate links. As an Amazon affiliate, I earn from qualifying purchases at no extra cost to you.
From back to school shopping for clothes, to wranging school supplies, to packing lunches every day, checking folders, and maybe even managing homework – your plate is about to fill up with those school year tasks that can make your days just a little more hectic. 
I want to majorly simplify one of these areas for you – packed lunches! I have some resources available on Mama Knows Nutrition to help lighten some of the mental load out of lunch packing (like my Meal and Snack Survival Guide for starters!), and today I'm going to do a deep dive into my favorite lunch box containers for daycare and school. 
So if you're wondering what's best- the best lunch box for toddlers and kids alike (a metal lunch box? a plastic lunch box, an insulated lunch box, a stainless steel lunch box? the options are endless!) – we're going to cover it here! 
Since many of us are packing lunches 5 days a week for, I don't know, 36 weeks a year, it's VERY important to me to have the right gear. That's why I have personally tested and reviewed tons of lunch boxes and am going to give you my honest opinion on the pros and cons of each. 
I'm looking for a lunch box that's going to stand the test of time (aka being tossed into my kids' backpacks, onto my countertop, probably dropped on the floor, thrown into the dishwasher, etc.), keep their food temperature-safe, and be easy enough to open, close, transport, and clean. 
So here we go, let's start the hunt for the best bento box/lunch box out there!
Shop all my favorite lunch packing supplies on Amazon here!
I really like the Omie Box! This is the one to pick if you want a thermos compartment.
Some pros include:
1- It's got a thermos to keep foods hot OR cold! 
I've packed tons of different foods in the Omie thermos- pastas, quinoa, yogurt, cottage cheese- and all have held their temperatures really well. You can also pack soups, stews, maybe even scrambled eggs- I haven't tried! I've also seen people pack cooked chicken nuggets that were still warm by lunchtime- pretty impressive. This is the only option on the list that contains a lunch box thermos!
Omie says their thermos is designed for foods to maintain their hot or cold temperatures for up to 4 hours, so if you're packing lunch at 8 am and your child has an 11:30 lunchtime at school- you should be good to go!
Pro tip for hot foods from the brand: pour boiling water into the thermos and let it sit for 5 minutes. Pour it out and put your hot food in. They recommend packing the hot food VERY hot- like too hot for your toddler/child to eat at the time- and then by lunch time, it should have cooled to safe temperature for eating! 
When I pack a cold food like yogurt, I pour in cold water and ice cubes first, and let it sit for 5 minutes. Then pour it out and put your cold food in.
2- Easy for kids to open!
This is an important criteria for many of us! If you're sending a young one to school or daycare and you can't guarantee they have 1-on-1 meal support during lunch and snack times, it's so important that they can manage on their own! This is a big win for the Omie box.
I will say, some kids may find it easier to open the thermos when you don't add the separate piece that goes into the spot that keeps the thermos from moving around. 
3- Removable dividers
I love a lunch box with removable dividers. This means that you can choose the size of the compartments based on what you're packing. Unlike a stainless steel bento box that has predetermined compartment sizes, Omie box lets you take them in and out so you don't have to get too strategic about cutting things into odd shapes and sizes! 
Now for the con:
1- Other parts of the lunchbox are not temperature controlled
While the thermos is an AMAZING feature, all your hot/cold items would have to go in there, because the rest of the lunchbox won't stay cold. This isn't too big of a con, as it's pretty common to pack lunch items that don't require refrigeration anyways- like applesauce, a piece of fruit, crackers, nuts, etc. Just something to keep in mind! 
Omie box also sells an accessory exterior ice pack that you can purchase and place in contact with the outside of the Omie box to help keep things cool if you want extra temperature control!
One thing to note:
There is a rubber seal that is removable that fits around the sections – make sure to remove that when you wash the lunchbox and then put it back in when everything is dry. I didn't know you were supposed to remove it at first, and it got moldy, like, immediately. So don't make my mistake!
My Overall Rating: 4.25 / 5! I LOVE having one, I just don't necessarily use it every day.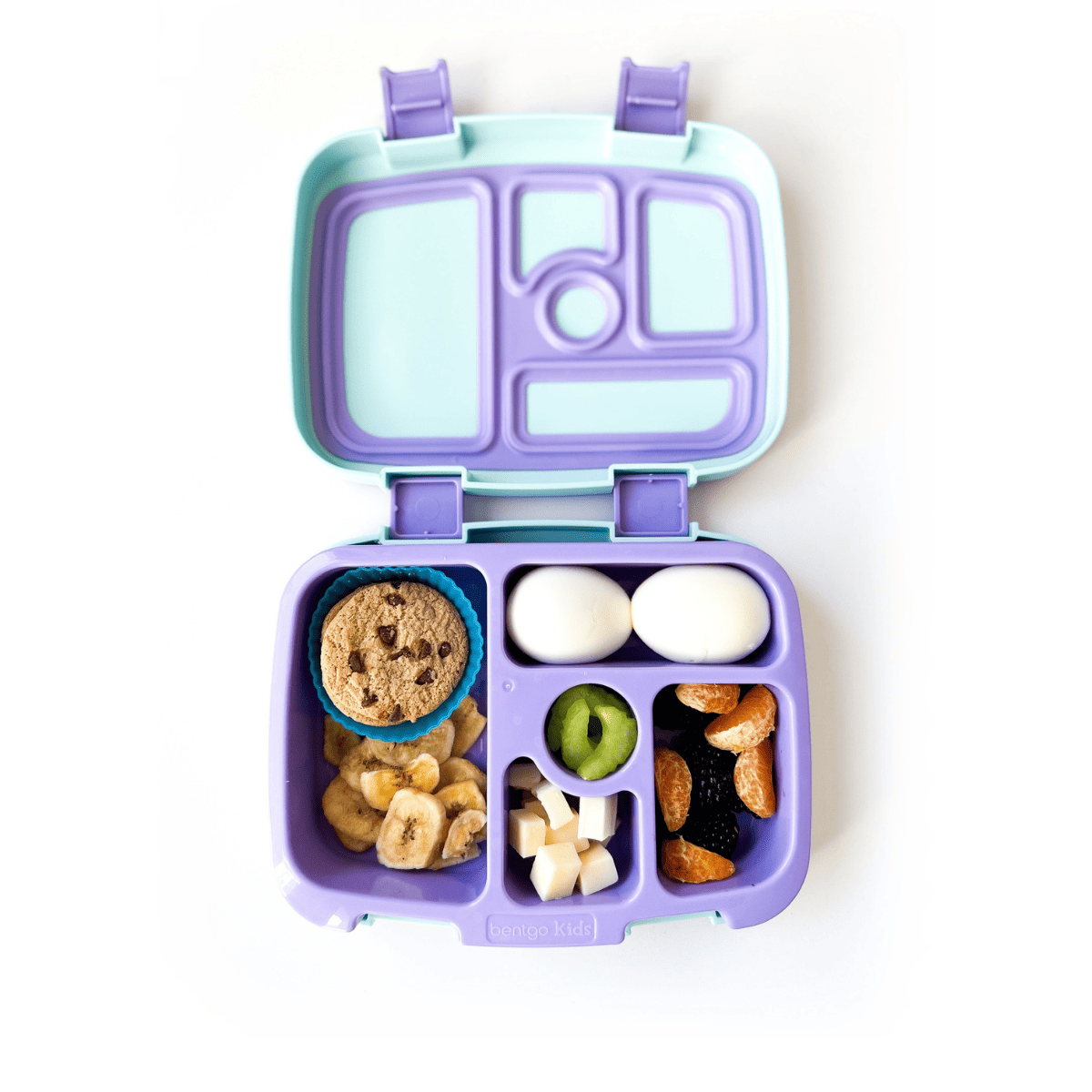 Pros:
1- Emilia LOVES the colorful options of this one
She's always stoked when I pack the Bentgo Kids Bento Box with the mermaids on top! I think kids love to have things in their daily routines that reflect their likes and interests- so I personally love any chance to opt for the most kid-appealing items. It may seem like a small thing, but I think it adds some excitement to mealtime!
2- Leak proof compartments 
Arguably the most important thing about a lunchbox?! 
I tested this with cottage cheese and it didn't leak out of its compartment at all, so you don't have to use an extra container inside for these types of things. 
The last thing you want is the cottage cheese mixing with the PB&J and suddenly your picky eater will eat NONE of it. It's not uncommon for kids to have aversions to certain things touching each other on their plates, not to mention it can just get downright messy- so this is a big pro in my book!
3- Feels sturdier to me than other brands with similar styles that I tested
This checks the box for my "will stand the test of time" criteria. I don't want the mental load of replacing a lunch box every few months, so I love the sturdy feel of this one!
4- The right size for a toddler/preschooler
I talk about this a lot in my picky eater content, but kids- especially picky ones- can get overwhelmed by large portion sizes. If young ones are taking lunch boxes to school with way more food than is normal for them to see on their plates, it may make them less likely to eat. 
That being said, I do usually err a little bit on the side of MORE versus LESS in the lunchbox overall, because you aren't there with them to give seconds of something they liked, I like to make sure they have enough quantity and variety in case they are really hungry. I find that this Bentgo Kids box allows for that while still being the appropriate size for a toddler/preschooler lunch box. 
5- Easy for little kid to open
Again, super important if your child can't or doesn't have help at meal times! You can have peace of mind knowing this box is super kid-friendly!
Cons:
1- Doesn't really have space for a whole sandwich
This may not be too big of a deal to you if you aren't often packing sandwiches or only usually packing half a sandwich, but for kids who enjoy a whole PB&J or turkey sandwich, there isn't room for the whole thing to fit comfortably if the bread is on the larger size. You could cut it up into smaller shapes/pieces, but just something to be aware of.
2- They will probably outgrow it by 1st grade, especially if they have a larger appetite at lunch
While it's a great size for little ones, it may not have the longevity to grow with them. If you're looking for a long lifetime in a lunch box, this may not be your top pick. 
Pro tip: I'd make sure to pack this with an ice pack inside an insulated lunch bag to help keep it temperature controlled. 
My Overall Rating: 4.75/5! It's the one I reach for most often.
Shop the Bentgo Kids Bento Box on Amazon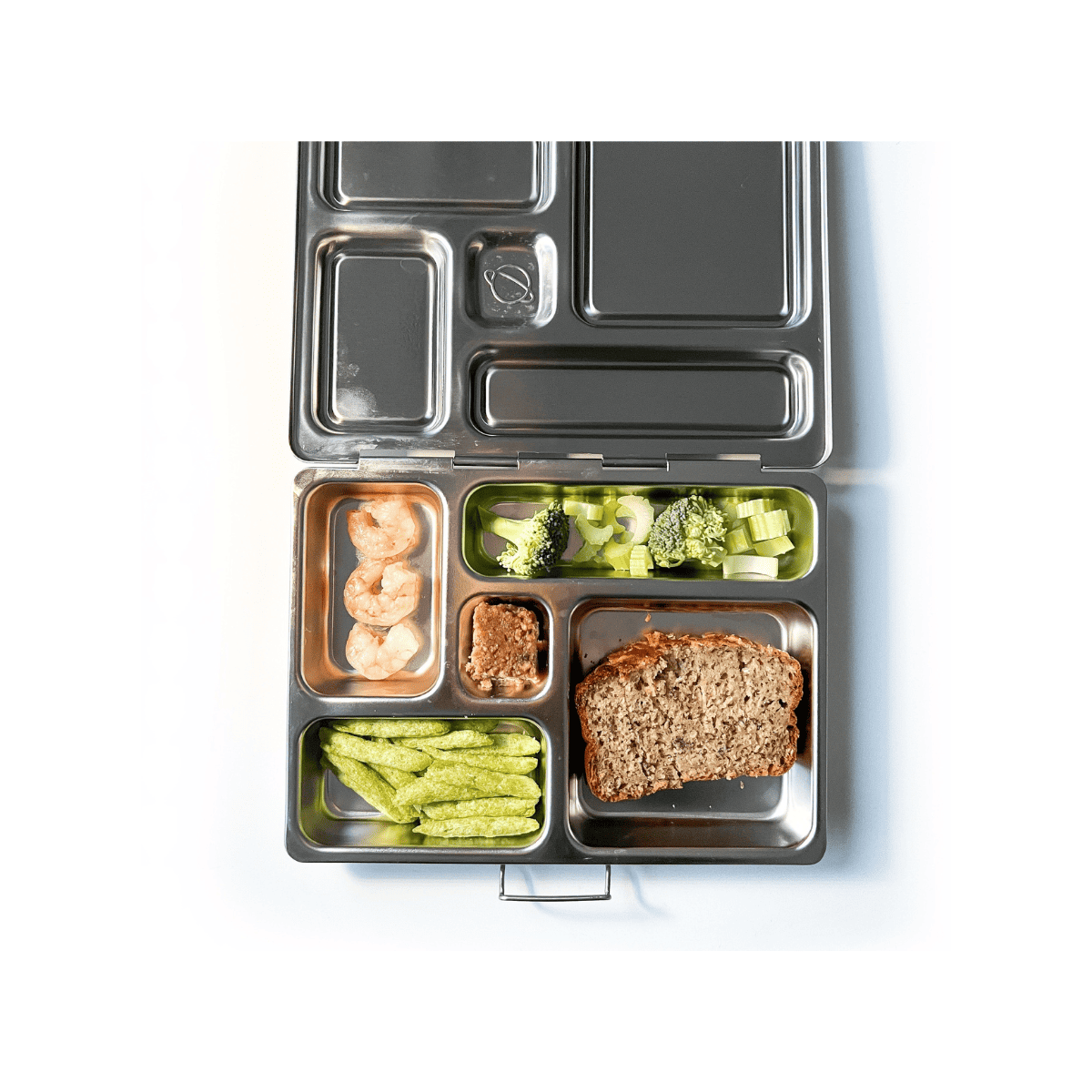 Pros:
1- Feels very durable/well made
Test of time! You know that's a big one for me. I like the feel of this, and it seems very high quality, unlike a lot of products made for kids. These things go through the wringer, so I appreciate a high-quality, durable product, and will always be willing to pay a little bit more for things that are going to last! 
2- Stainless steel
In addition to stainless steel being really durable, it's also a breeze to clean, and is more temperature controlled material than, say, plastic. I tend to like glass and stainless steel food containers best, but we're obviously not sending glass to kindergarten- so stainless steel it is! (I do, however, give my kids glass at home- these glass smoothie cups have silicone sleeves around them to make them less breakable, and they are our favorite cups!)
3- Child could open it themselves
Same as above- if it's important to you to be sure your child can open the box themselves- this one passes the test!
4- Nice size for toddlers/preschoolers
Easy for them to tote around in a backpack and eat from without getting overwhelmed by the size. It's got plenty of room for a good size toddler/little kid lunch without being too roomy and things sloshing around everywhere!
Cons: 
1- Not leakproof (but you can get little containers to put inside)
Okay, hear me out! It's not leakproof. That sounds bad. BUT, you may already have or could easily get some small containers to put inside. We have plenty of those laying around, and I find that they work really well for keeping things contained inside this lunchbox. And in some ways, it's a little less of a mess anyway! 
2- The small middle section feels too small
Like I could maybe put 4 m&ms there? Just doesn't feel like the most useful space to me. 
3- It's not very tall 
It looks like you could maybe fit a yogurt cup or something like that inside, but it's not tall enough, so you'd need their extra containers. I wish the compartments were deeper so I had more options on the type of items I could fit inside. 
My Overall Rating: 4 / 5 
Shop the Planetbox Rover on Amazon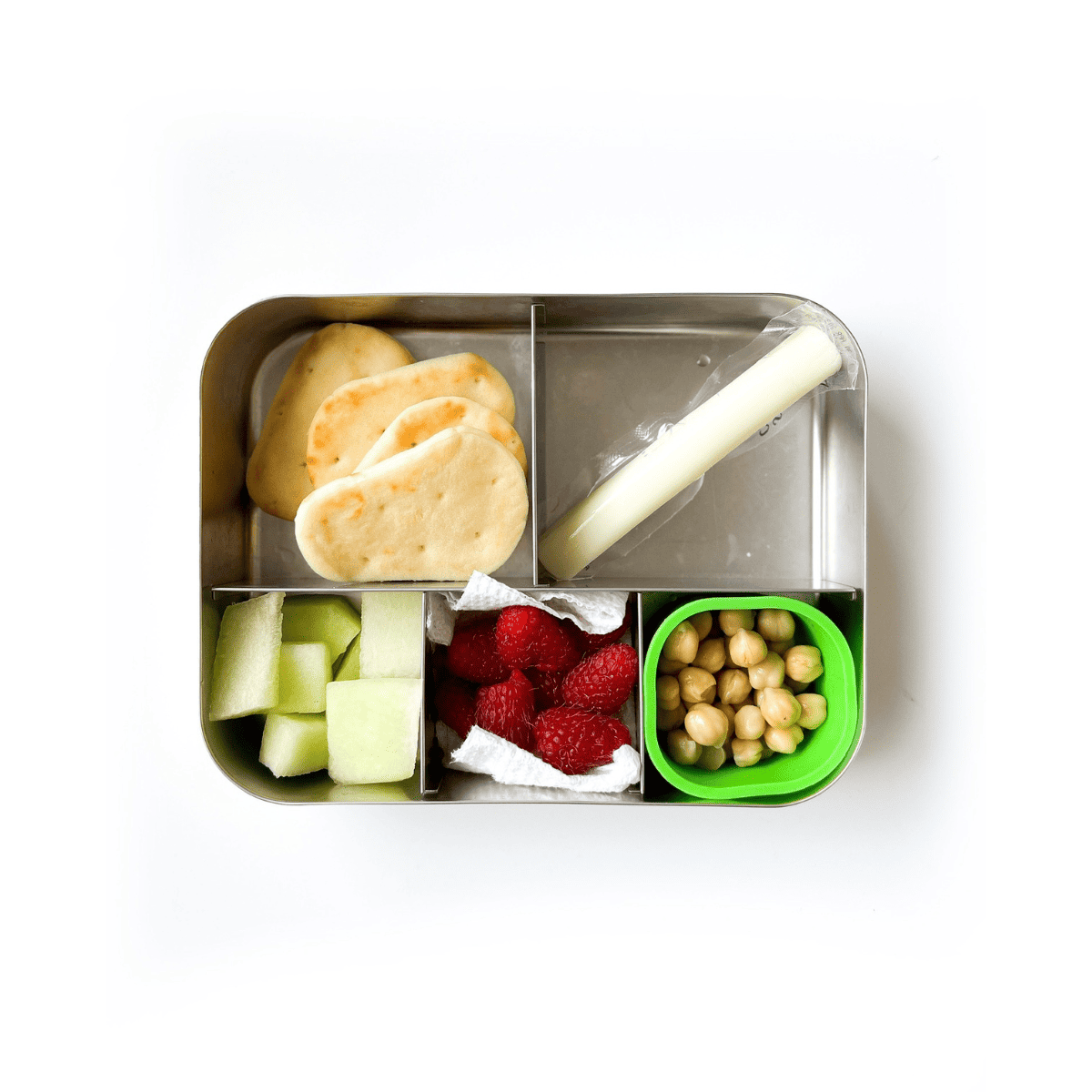 Pros:
1- Stainless steel
You know that thing isn't breaking, no matter what! 
2- Less expensive than the Planetbox
A very similar stainless steel competitor at a lower price point- you love to see it!
3- Deeper than the Planetbox 
This means you can fit larger serving sizes and a larger variety of pre-packaged items like yogurt. This does also mean it's a bit bulkier, but I like the freedom that comes with the added depth!
4- Different models
The Lunchbots lunch box is available in different configurations- so you can get one with 3 compartments or 5 compartments. I think that's such a great feature so you can choose that one that fits how you most often pack lunches! I personally like the 5 compartment one so I can weave in a little more variety- that works best for my kids!
Cons:
1- Not leakproof
Again, not necessarily a fatal flaw, but you do need to buy containers to put inside. 
2- May be harder for a toddler to open themselves
The lid stays on nice and tight, but there aren't latches for a toddler to grab onto like some of the other lunchboxes have.
My Overall Rating: 4.5 / 5! These are a great everyday lunch box and are at a great price point for quality stainless steel.
Shop Lunchbots lunchbox on Amazon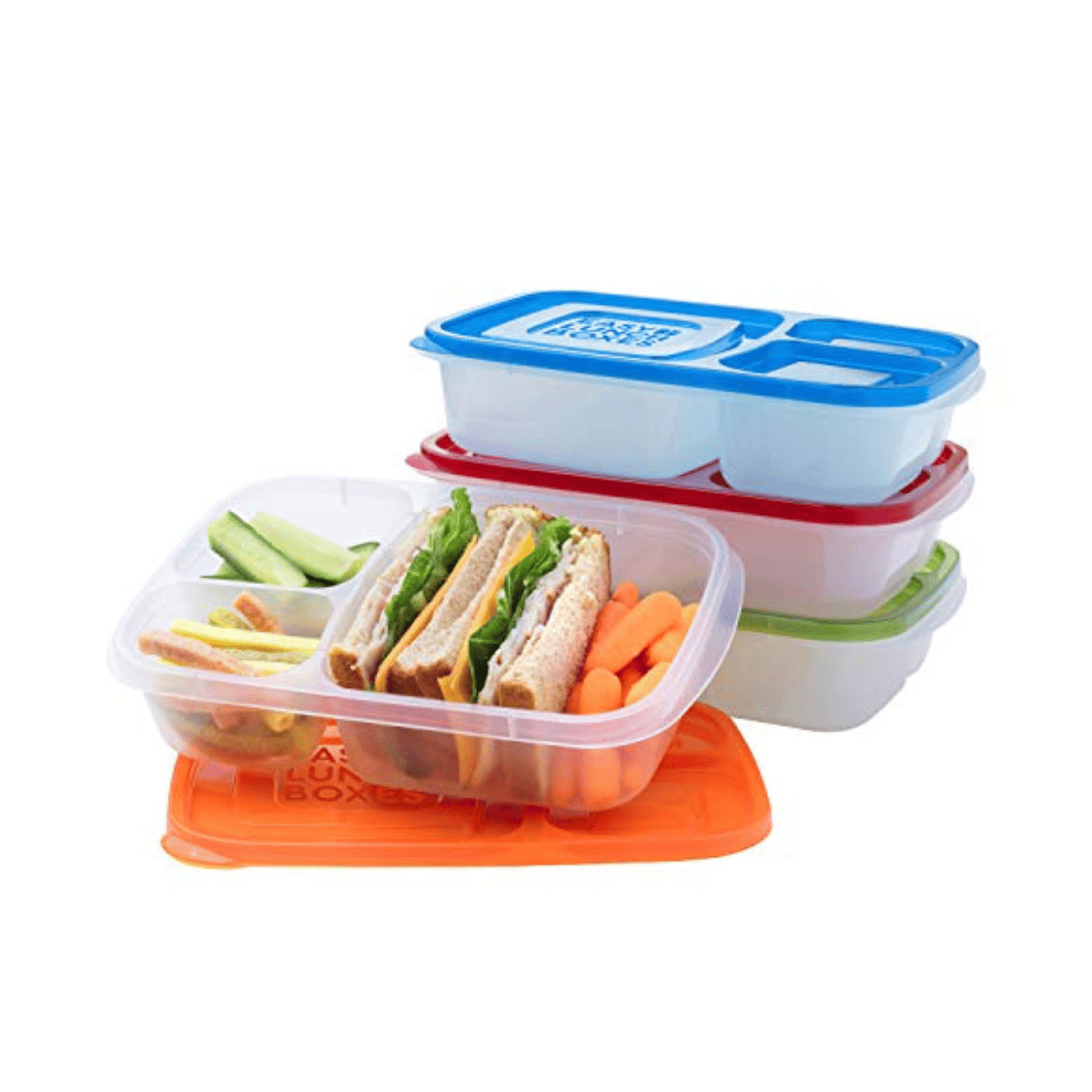 Pros:
1- The most affordable reusable option
This pro cannot be overstated. If you're buying multiple lunch boxes for multiple kids, it can really add up! Even one of the stainless steel ones can run you about $50. So the EasyLunchboxes being under $15 is a killer deal. 
2- Versatility
If you like to prep lunches ahead of time, the EasyLunchboxes Bento Boxes come in clutch. You can either make a sandwich and freeze it right in this container and finish the rest of the lunch packing in the morning, or you could make a few lunches and keep them in the fridge without having to buy several of the more expensive lunch boxes. The price allows for more versatility and could make your lunch packing much easier if you buy multiple. 
3- ALMOST leak proof
They aren't 100% perfect, but they do a pretty good job at keeping leaks at bay. I would still feel comfortable tossing this in a backpack (as long as none of the containers are pure liquid). 
Con:
1- Not quite as durable
It's made of plastic rather than stainless steel, so it lacks the durability and potential longevity of some of the other options on this list. But if the price point and the other pros outweigh that for you, this is a great option! 
My Overall Rating: 4 / 5! 
Shop EasyLunches Bento Box on Amazon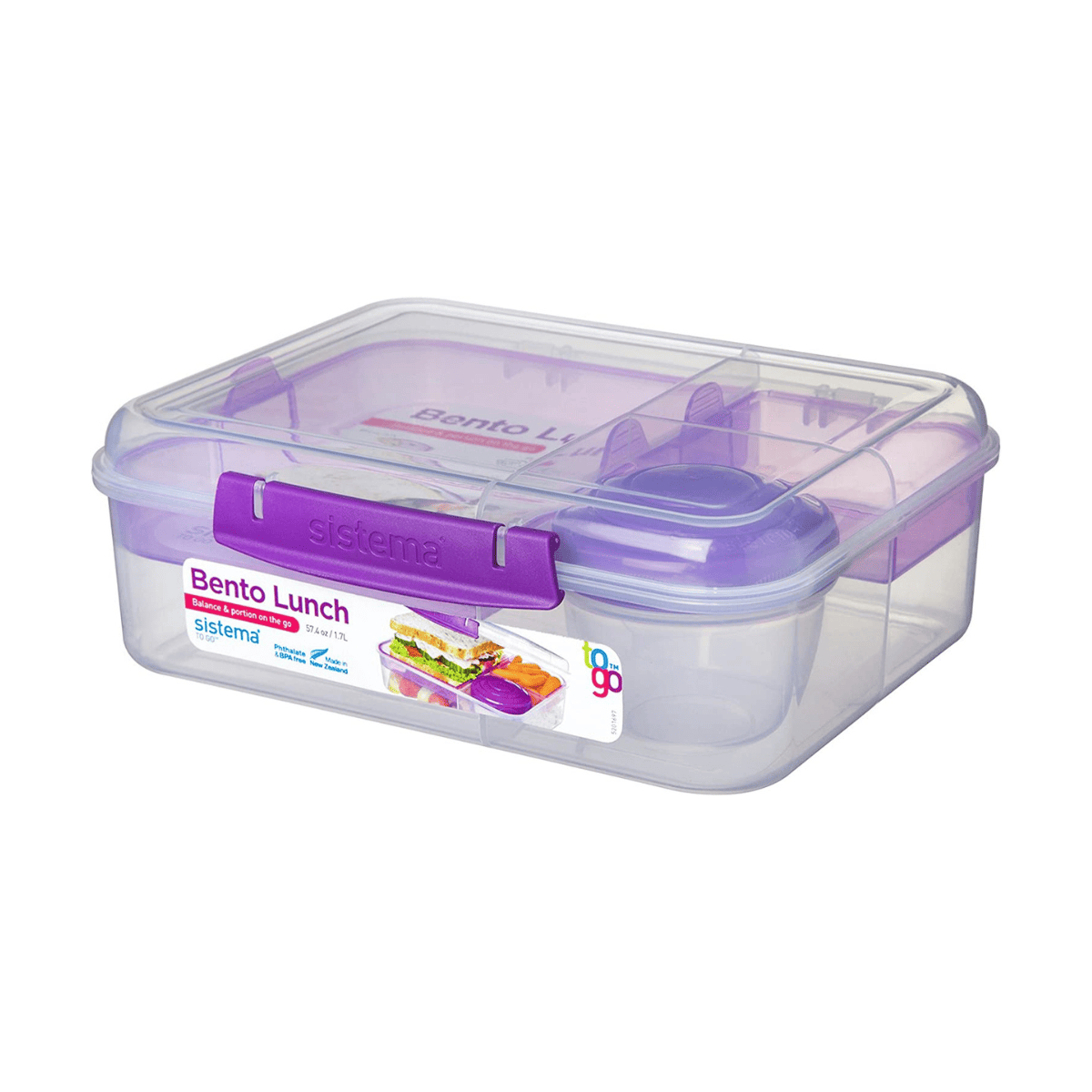 Pros: 
1- Good for older kids, especially kids who like to have a sandwich in their lunch as well
It's spacious and you can remove the optional tray to fit a sandwich on the bottom. I have also found that it fits most single serve yogurt containers. 
2- Has a lot of different spaces
I personally love this feature because it allows you to throw in a lot of variety for my elementary aged kid. When kids are away at school, we won't know exactly how hungry they are, what they want, how much they eat, so I find that offering a modest (read: not overwhelming) amount of a handful of things leads to more consumption versus going all in on a full sandwich and carrots and they don't touch it. 
3- Can fit a lot 
I'd also call this one the most adult friendly on this list (if you're not reheating anything – good for a sandwich and sides!) The size makes it able to accommodate a variety of appetites, so this is a potentially a very versatile purchase! 
Cons:
1- Too big for preschoolers/toddlers
This one is pretty roomy, so if you're looking for a lunchbox for a toddler for daycare, this may not be your ideal size. 
2- Not great for snack-tray type lunches
If you typically pack lunches that are more of a charcuterie board style, these compartments may not make sense, as they're larger and more spacious than some of the stainless steel bento boxes with smaller, snack-friendly compartments.
My Overall Rating: 4 / 5!
Shop Sistema Bento Box on Amazon
Favorite Accessories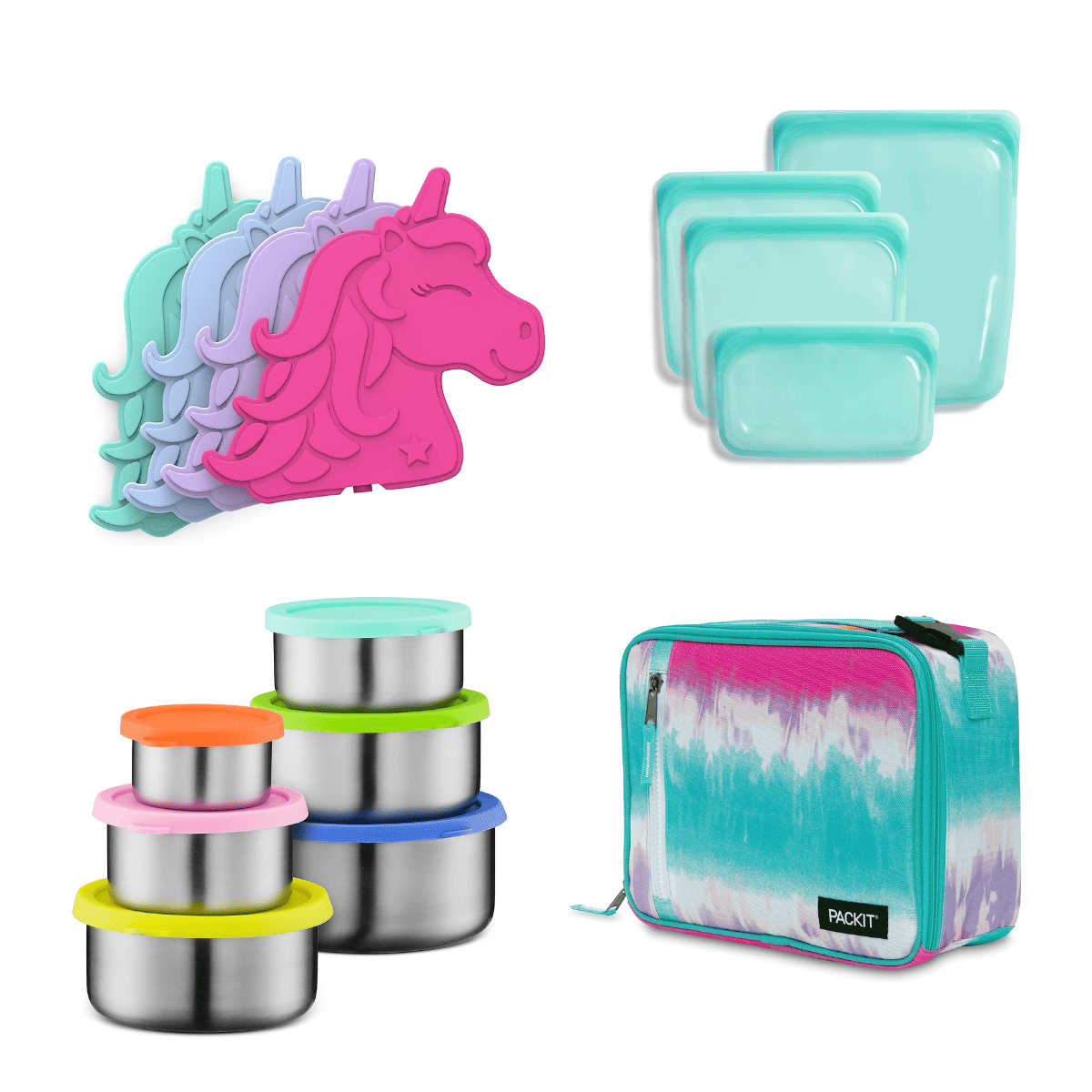 In addition to the lunch box itself, you may find that you need a few accessories to make sure things are temperature controlled and safe.
Some of my favorites are these slim ice packs that I find fit really well on the outside of a lunch box to help keep the contents cold. We also use these Simple Modern insulated lunch box containers- I find that they fit a bento box really well, and I just stick the icepacks around it and zip it up! If you're looking for a lunchbox you can throw in the freezer and it will act like the ice pack itself, check out this Packit lunch box!
Some of my other top recommendations would be these stainless steel containers and a set of Stasher bags that are great for food storage at home and for lunches and snacks on the go!
Everything mentioned in this post is linked in my Amazon storefront, so follow that link to find the items that will help make those hundreds of lunches you're about to pack a breeze!
Sign up for my newsletter to receive all the latest info on blog posts and upcoming content- I'll share more about my favorite packed lunches for kids, snacks galore, and what's helping me navigate these back to school days!