Restriction is hard, no matter the reason, and when your kid ONLY loves PB&J, it's a big hill to climb when you find out that is not allowed in their lunchbox in their nut-free classroom.
This post is Part 1 in our allergy-friendly series!
If your kiddo needs nut-free snacks and lunches, welcome aboard! You are now officially riding the nut-free struggle bus.
Look around and wave hello to everyone riding with you: 
🙋🏻‍♀️ The parents who need peanut-free but can still send other tree nuts. (We envy you!)
🙋🏽‍♂️ The parents whose kids' schools have been nut-free for years…but still struggle with what to send. (It never gets easier.)
🙋🏻 And the protective, mama- and papa-bear parents of kids with nut allergies who have waaaay more to worry about than what to send—but need nut-free snack and lunch ideas just like the rest of us.
I know you might not want to be riding the nut-free bus but hey, I'm your driver! And I promise to make the trip a lot easier for you.
Nut-Free vs. Peanut-Free
Nut-free is always tricky, but if your child's school has only outlawed peanuts (or your child has a peanut allergy), you'll have an easier time finding snacks and creating lunches. That's because you have other tree nuts and nut butters available to you, like almond and cashew butter. So you could make simple swaps like sending almond butter and jelly sandwiches for lunch or apples and cashew butter for a snack—instead of the PB classics.
But if your child needs to eat entirely nut-free—at least at school—I promise, not all hope is lost. There are great products on the market that make sending safe snacks and lunches easier. And I've included my favorites among them here!
Note: this post contains affiliate links. As an Amazon Affiliate, I earn from qualifying purchases at no extra cost to you.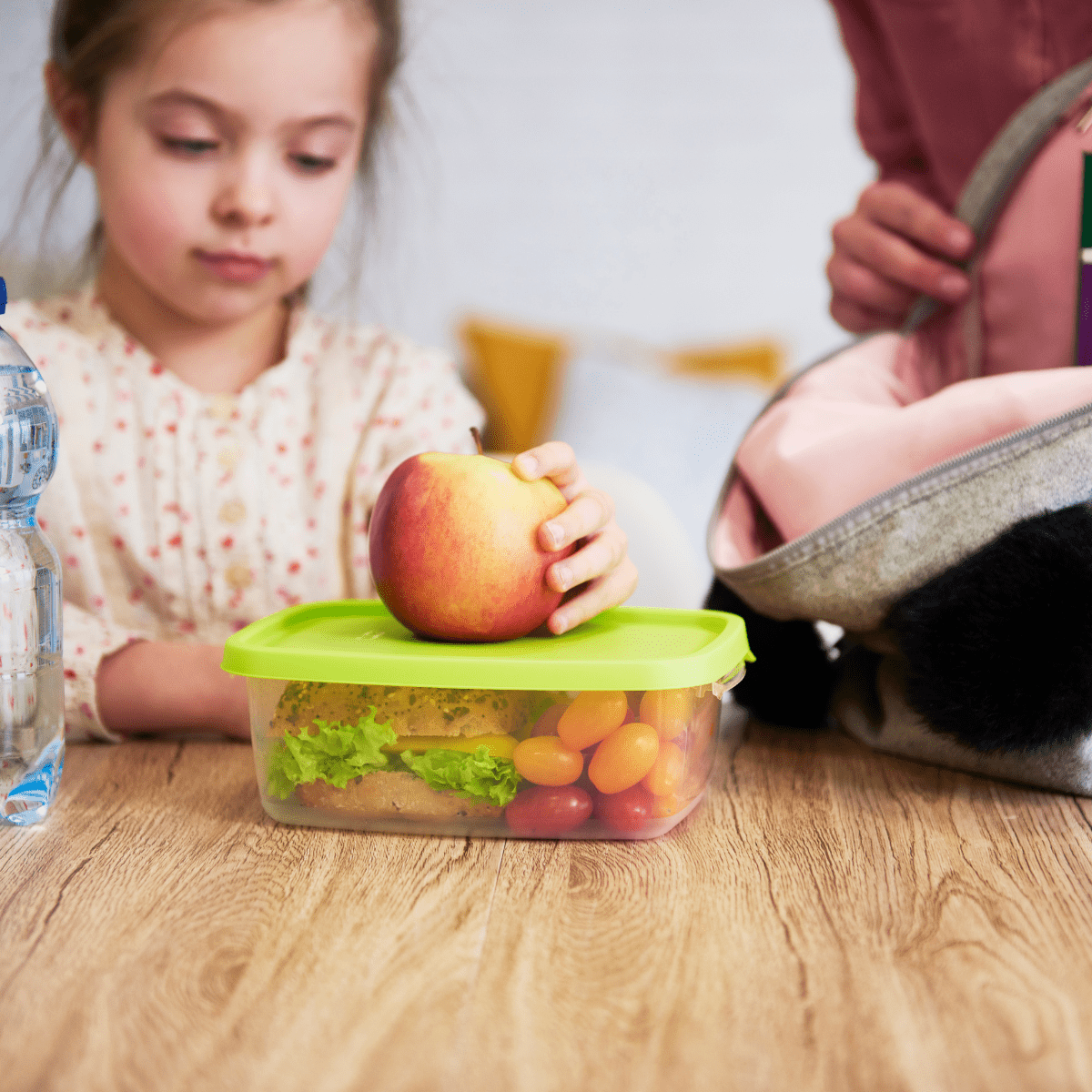 How To Build Balanced, Nut-Free Snacks
Before we talk nut-free snacks, let's talk snacks in general.
Snacks are a great thing! A necessary thing. Especially for toddlers. So no need to stress over the fact that your little one loves them.
I just like to encourage parents to build balanced snacks—meaning snacks with more than one food group in them, and without too much added sugar. This way, your kiddo's snacks won't spike their blood sugar before sitting for a few hours at school. And, they'll have enough staying power to keep them full until lunch or dinner.
The Anatomy of a Balanced Snack
5-7 grams or less of added sugar (it's okay if there's more total sugar or sugar from natural fruit sugars)
2 grams of protein or fiber for staying power
More real-food ingredients than not
No artificial colors, flavors, or sweeteners (in a perfect world)
Not every snack will live up to this nutritional standard, and that's okay! But this is a great outline for a snack that will give them the right amount of energy and fullness for their days.
For even more snacks that meet these standards (in a guide that you can pull up on your phone while shopping!) grab my free snack guide now! (Just know that it's not entirely nut-free).
Nut-Free School Snack Ideas
Grab your grocery list. Open the notes app. Get your screenshotting fingers ready! Here is my complete list of 40+ nut-free snack and lunch ideas.
DISCLAIMER: We checked product packaging at the time of publishing, but product ingredients or manufacturing may change. If you require nut-free products, you must read the labels carefully and do not solely rely on information in this post.
Throw-And-Go: Nut-Free Snack Bars
Cerebelly Bars
Skout Bars (apple pie, blueberry, raspberry) – use code MAMAKNOWS for 20% off
Kind Healthy Grains Bars- vanilla blueberry, cinnamon oat
Kind Kids Chewy Bar- chocolate chip 
Yumster Yo Bars- mango
Annie's Gluten-Free Bars
Made Good Granola Bars
This Bar Saves Lives
That's It Fruit Bars
Freeyum Oat Bars
Throw-And-Go: Nut-Free Packaged Snacks
Applesauce pouches (most brands)
Solely Mango Bites
Mini raisin boxes
Dried fruit
Freeze-dried fruit
Fruit cups (100% juice)
Terra Chips
Simply 7 Lentil Chips
Saffron Road Lentil Crackers
Hippeas
Canned chickpeas
Lesser Evil Puffs
Ka-Pop Cheddar Cheese Puffs
Kabrita Goat Cheese Puffs
Kashi Original 7 Grain Crackers
Simple Mills Original Sprouted Seed Crackers
Rhythm Superfoods Chips (Kale, Beet, Carrot)
Ak-Mak Whole Wheat Sesame Crackers
Triscuit Original
Plantain chips
Lundberg Organic Brown Rice Cakes
Harvest Snaps Lightly Salted Pea Crisps
Made Good Soft-Baked Mini Cookies
Shop these nut-free snacks on my Amazon page here!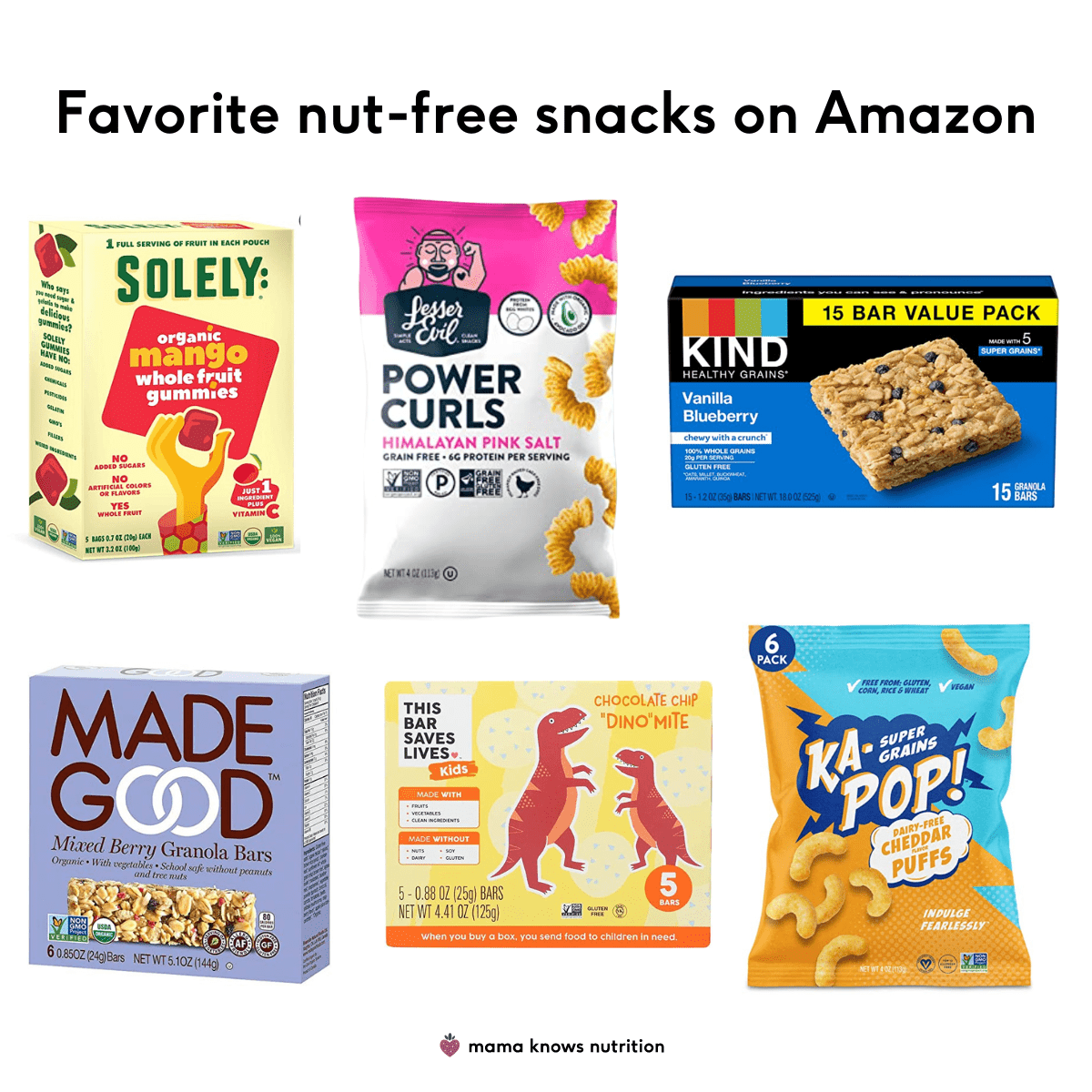 Make Ahead: Low-Prep, Nut-Free Snacks
All of the snacks listed so far are pre-packaged and ready to go, so they're easy for school lunches and snacks on the go. But there are TONS of great nut-free snacks that you can assemble at home if you have a minute or two!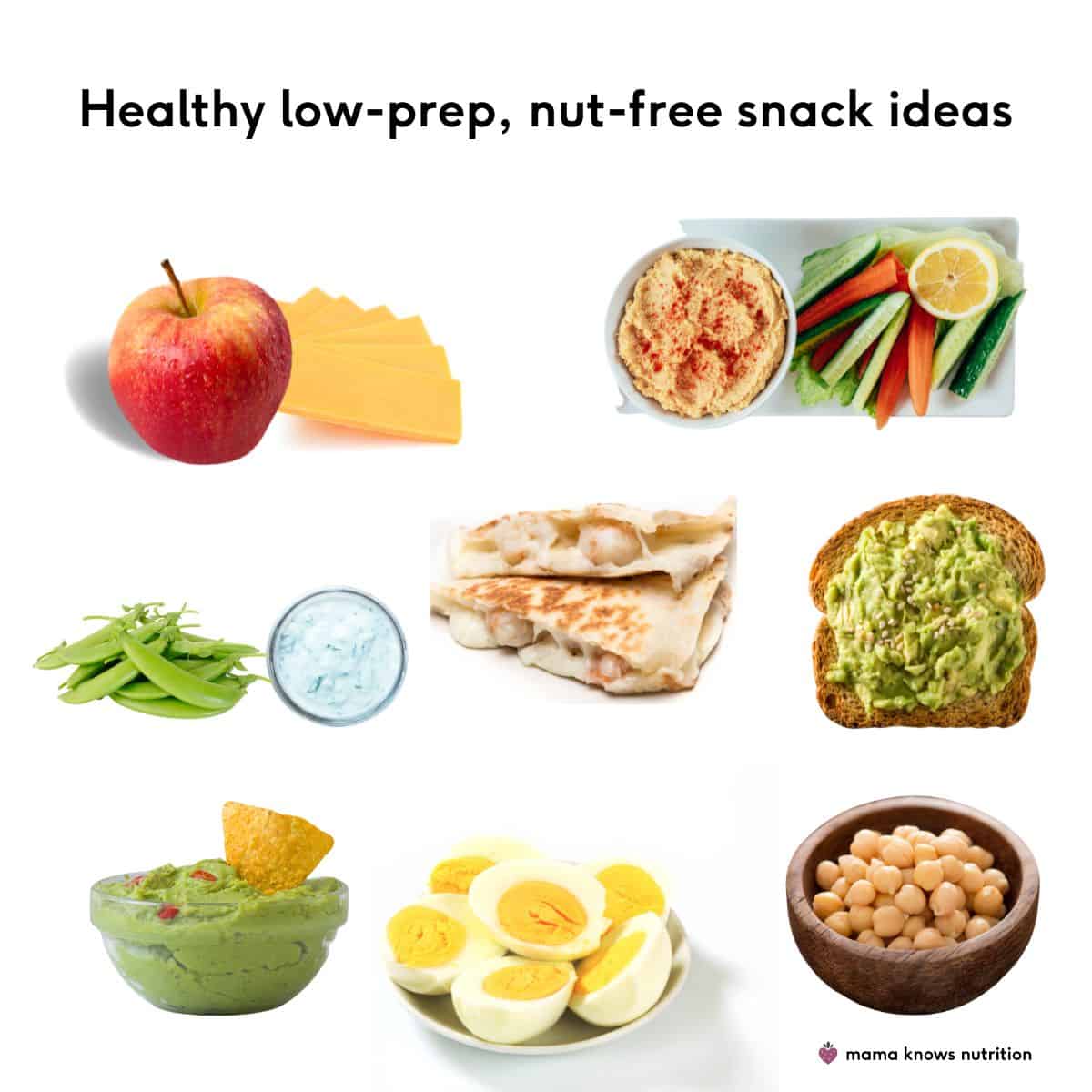 Fresh fruit and cheese: Fruit and cheese together make a complete, satisfying snack so mix, match, and make it yours. Could be cucumbers and cottage cheese, berries and a Babybel, apple and string cheese…you do you!
Carrots and hummus (Look for tahini-free hummus if you know sesame is a concern for your child)
Avocado on crackers or toast
Snap peas (or any other veggie) and ranch dressing (can mix ranch with Greek yogurt for more protein)
Guacamole and chips
Chips and black bean dip
Hard-boiled eggs
Half sandwich or quesadilla
Turkey and cheese rollup (or any other lunch meat)
Related: Is processed meat bad? How to safely serve lunch and deli meat to kids.
10 Nut-Free School Lunches
My offering to you: a list of 10 easy-to-assemble, low-prep, nut-free lunch ideas you can make even if you only have a few minutes in the morning.
Unsweetened applesauce, plain whole milk yogurt with honey, whole grain, nut-free crackers, and cucumber slices
A sunflower seed butter or granola butter and jelly sandwich on whole grain bread with Babybel cheese and a pear
Rice, sliced grapes, nut-free granola, hummus, and carrots
Carrots, in-house roasted turkey breast, a cheese roll-up, and a banana
Frozen peas with leftover rice and cheese slices
Triscuits, freeze-dried mango, and tuna salad (canned tuna mixed with mayo and dijon mustard)
A hard-boiled egg and apple slices with sunbutter
Canned white beans or chickpeas with snap peas and watermelon
Pasta salad with nut-free pesto or pasta sauce and mozzarella cheese and a clementine
Half of a cheese quesadilla with canned black beans and a kiwi
Worried your kiddo won't like these? Switch them up! These lunches can all be mixed and matched so play around, sub ingredients in and out where you need to, and tweak until you land on a combo that goes together like almond butter and jelly.
And when in doubt, remember: Fruit, veggies, and dairy are all nut-free. So thinking of ways to include those in lunches will get you 2 or 3 items pretty easily.
Tips for Prepping Nut-Free Snacks & Lunches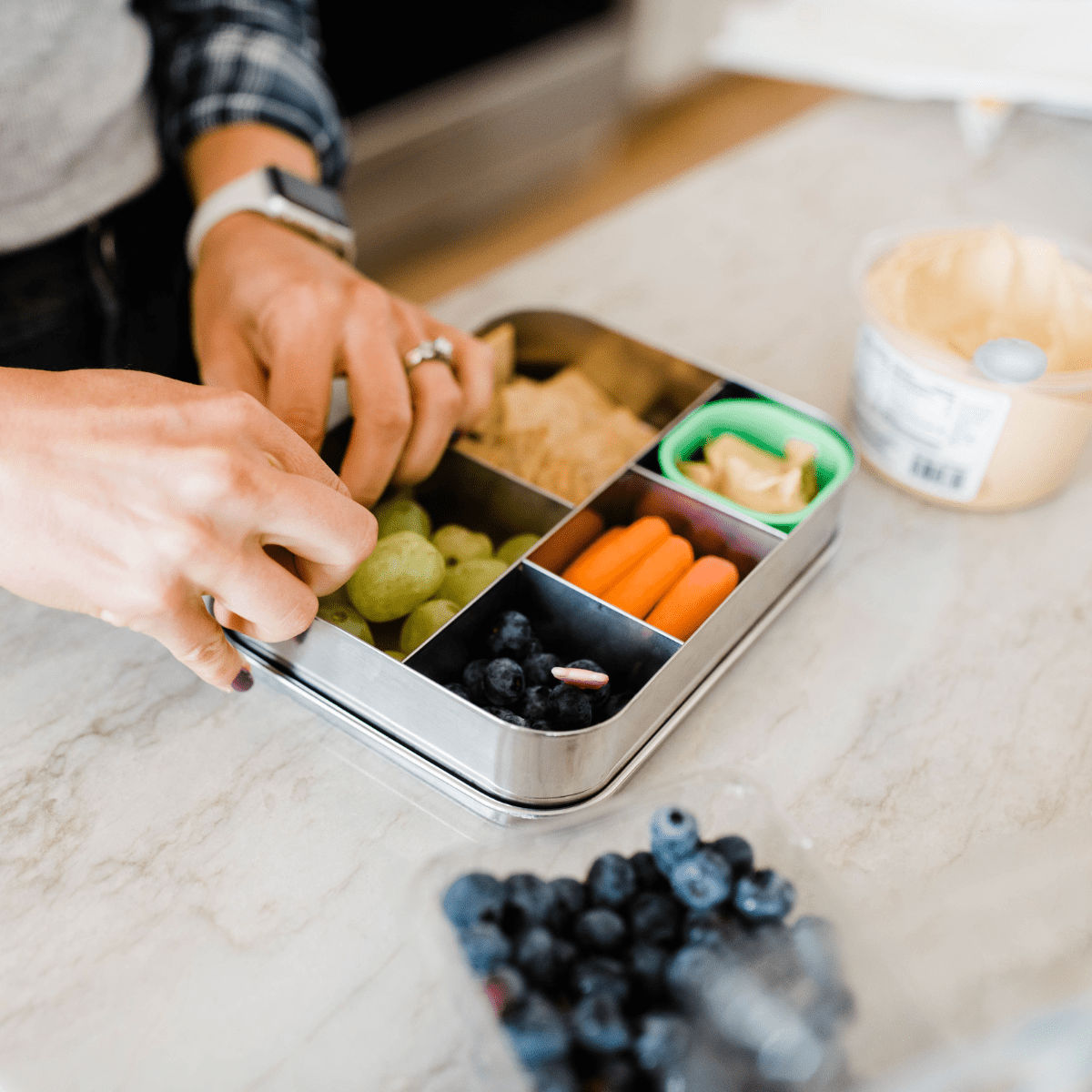 Packing nut-free snacks and lunches day in and day out can feel really intimidating. But with a little bit of strategy and a few go-to, nut-free products, you can build well-balanced and nutritious snacks and lunches without tons of effort.
Here are a few tips to make your nut-free life easier:
Use snacks you love as a part of lunch! No one ever said lunch had to be completely made from scratch.
Sunbutter and Oat Haus Granola Butter are my 2 favorite non-nut butters. They can easily step in for peanut or almond butter.
Leftovers are always GREAT for next-day lunches. Think about making larger portions whenever you cook rice, potatoes, or pasta for dinner. It'll make it even easier to throw together nut-free lunches for the rest of the week.
This is the best lunchbox for packing hot items because it comes with a leakproof thermos section. Whenever I make pasta, ravioli, mac and cheese, tortellini, or quinoa I will usually heat up leftovers in the morning and pack for lunch.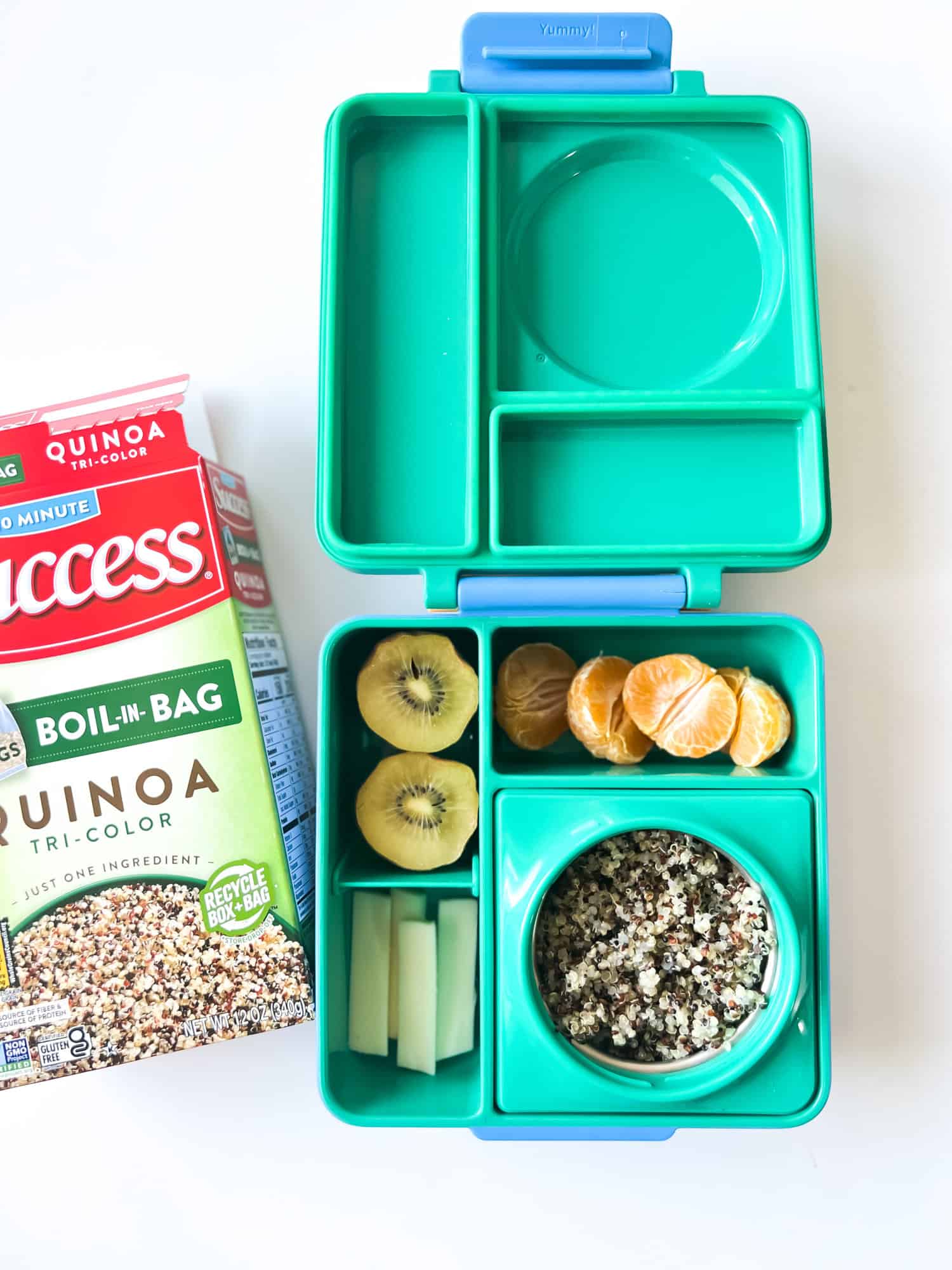 Nut-Free Parents Are Really Good Parents
Just like picky eater parents, allergy parents, all-organic parents, surviving this season thanks to nightly nuggets parents, and everyone in between…nut-free parents are really good parents.
You're here researching. Prepping. Planning. Doing everything you can to feed a little one who may or may not throw that nutritious, nut-free lunch on the ground at school today. 
And you'll do it all again tomorrow. 
And that makes you a freaking superhero.
What Nut-Free Faves Did I Miss?
Nut-free families have to help each other out! If you've got more beloved nut-free products that I missed, comment below and share them.