Looking for a delicious and satisfying meal? Our chicken taco salad is packed with juicy chicken, crunchy tortilla strips, and a zesty dressing that's sure to satisfy your taste buds. It's the perfect option for a quick and easy lunch or dinner.
Go crazy and serve your chicken taco salad in a crispy flour tortilla bowl or on a tostada.
Pin this recipe for later!Pin This
Why We Love This Chicken Taco Salad Recipe
Flavor-Packed – The combination of juicy chicken, crunchy tortilla strips, fresh shredded lettuce, and a zesty dressing creates a perfect blend of flavors and textures that will leave everyone wanting seconds.
Easy to Make – You can use leftover poached chicken or cook it up fresh, and then simply chop up the ingredients and toss them together in a bowl.
Perfect for Meal Prep – Make a large batch and portion it out for several days of lunches or dinners.
Overall, a taco salad with chicken is a healthy and satisfying dish that's sure to become a staple in your meal rotation.
Ingredients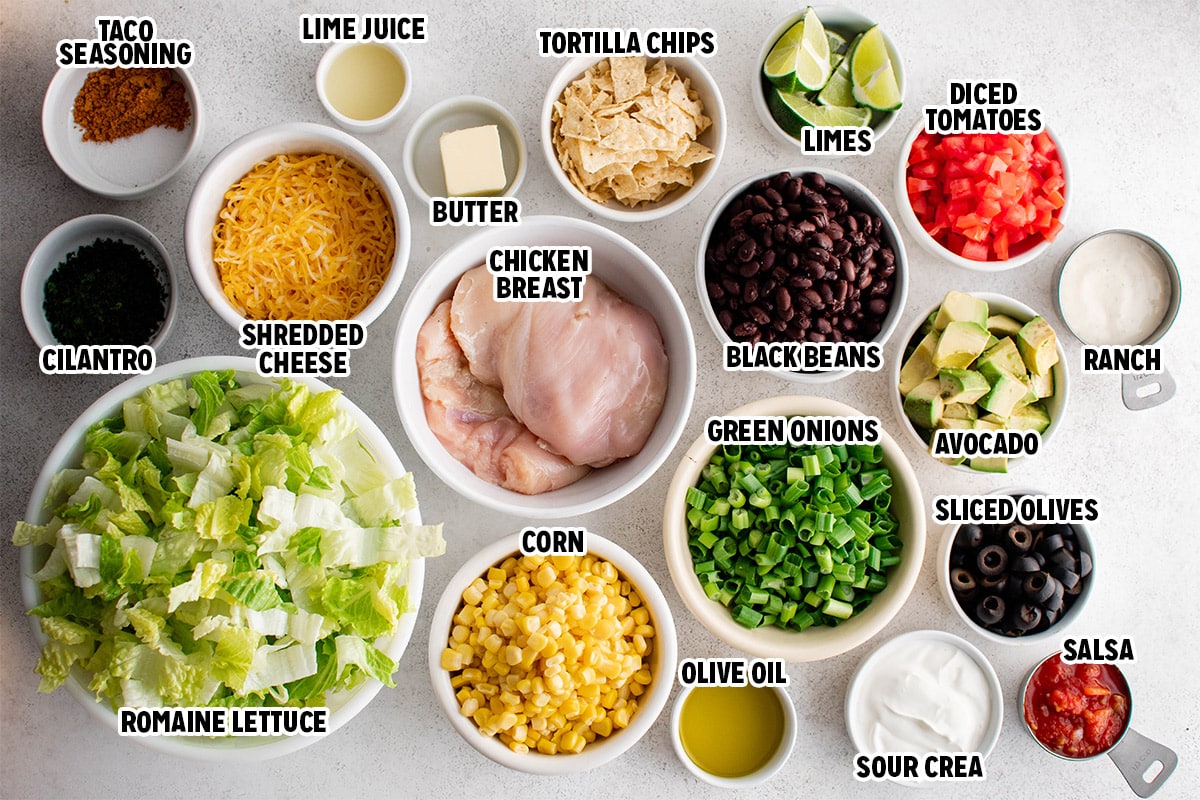 Chicken breasts – I included a simple recipe for sauteing chicken in the recipe card below. You could also simply pluck the meat off of a rotisserie chicken.
Butter and Olive oil for sauteeing the chicken.
Taco Seasoning – Use this recipe to make your own seasoning or grab a packet from the store.
Romaine lettuce – The heartiest lettuce and perfect for a hearty salad. Use whatever you like or have on hand.
Toppings – Tomatoes, green onion, corn, black beans, sliced olives, shredded cheese, avocado, crushed tortilla chips.
Limes – Not actually a topping, but absolutely vital for adding an acidic contrast and flavor to the finished dish.
Zesty Dressing – Salsa, sour cream, ranch dressing, lime juice, and chopped fresh cilantro.
Salt and pepper are optional – only add after you've tasted the salad and think it's needed.
How to Make Chicken Taco Salad
Chicken taco salad is packed with juicy chicken, crunchy tortilla strips, and a zesty dressing. Perfect for a quick & easy lunch or dinner.
Step 1: Season the chicken breasts with taco seasoning and cook them over medium-high heat in a large skillet or grill pan. Once they reach 165℉ on a meat thermometer, they're ready. Pro Tip – If the outside is getting too dark and the meat isn't fully cooked, finish them in the oven. Transfer to a plate and cover with foil.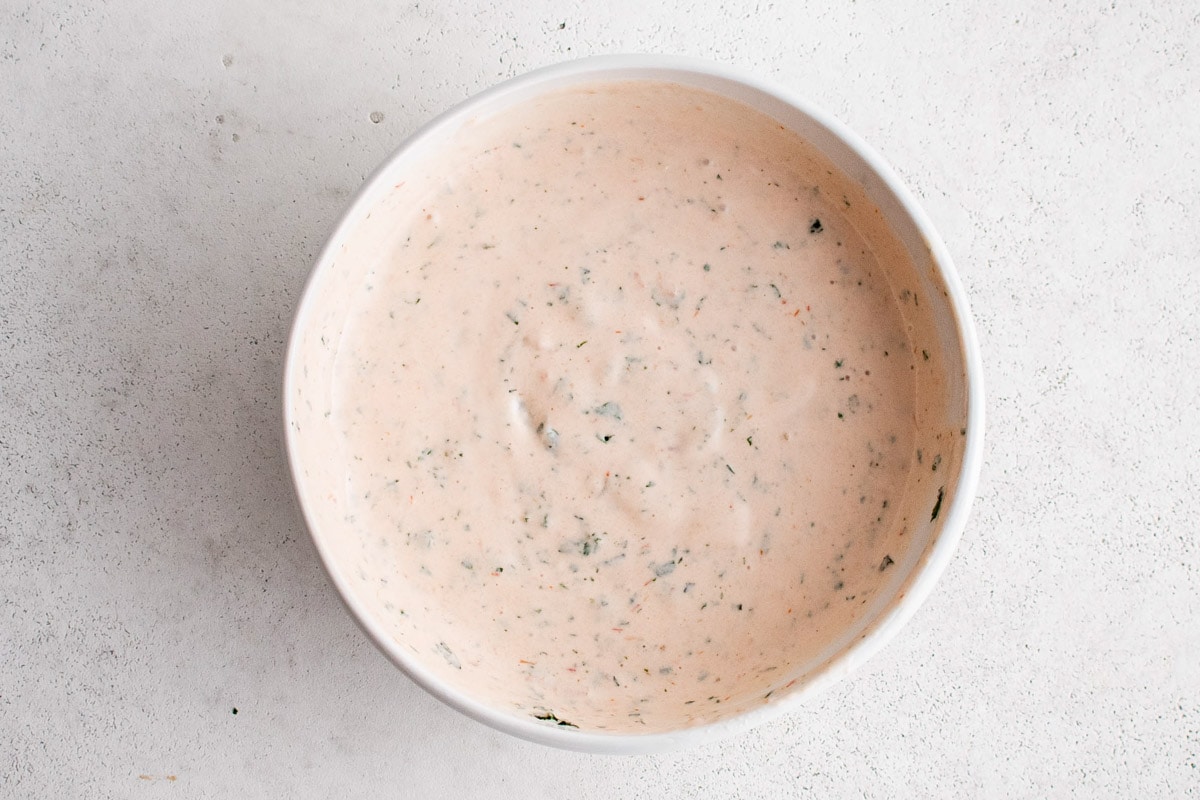 Step 2: Make the dressing. While the chicken is cooking, whisk together the Ranch dressing, sour cream, salsa lime juice and cilantro. Cover and set aside.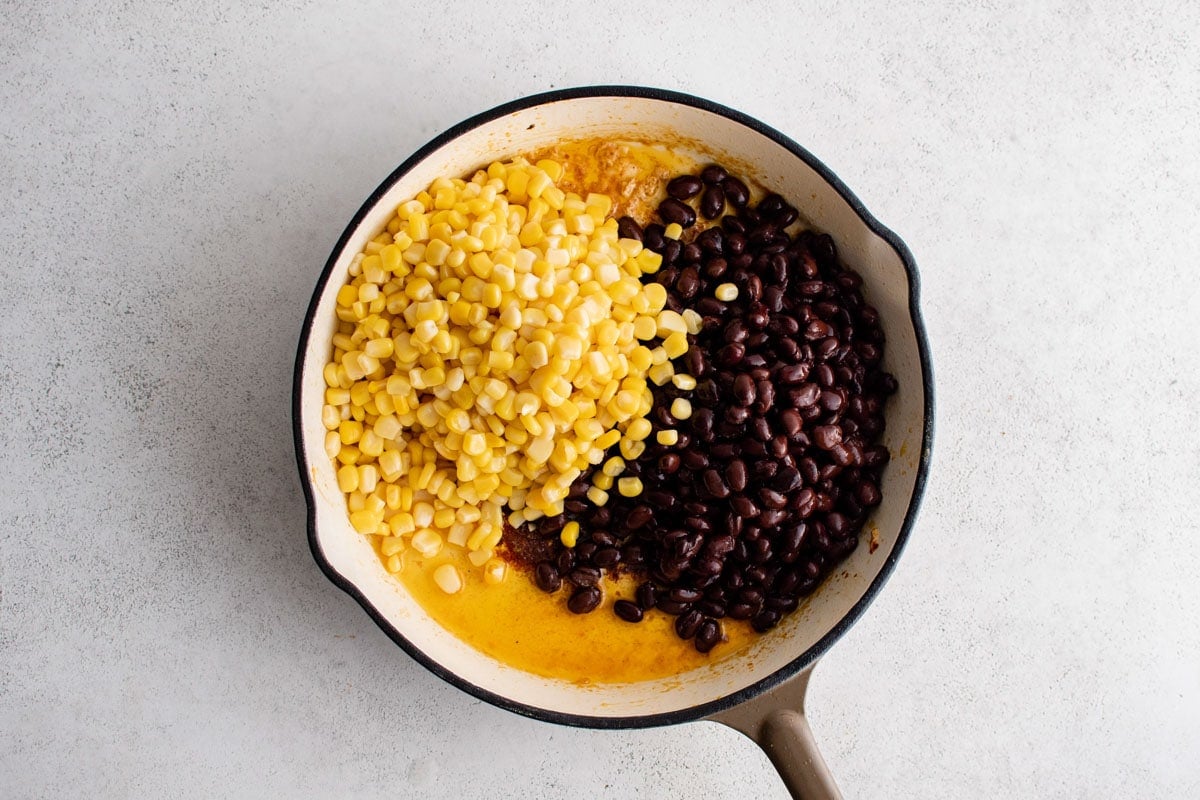 Step 3: Add corn and black beans to the empty skillet and stir to coat with the juices and flavors left in the skillet then turn off the heat.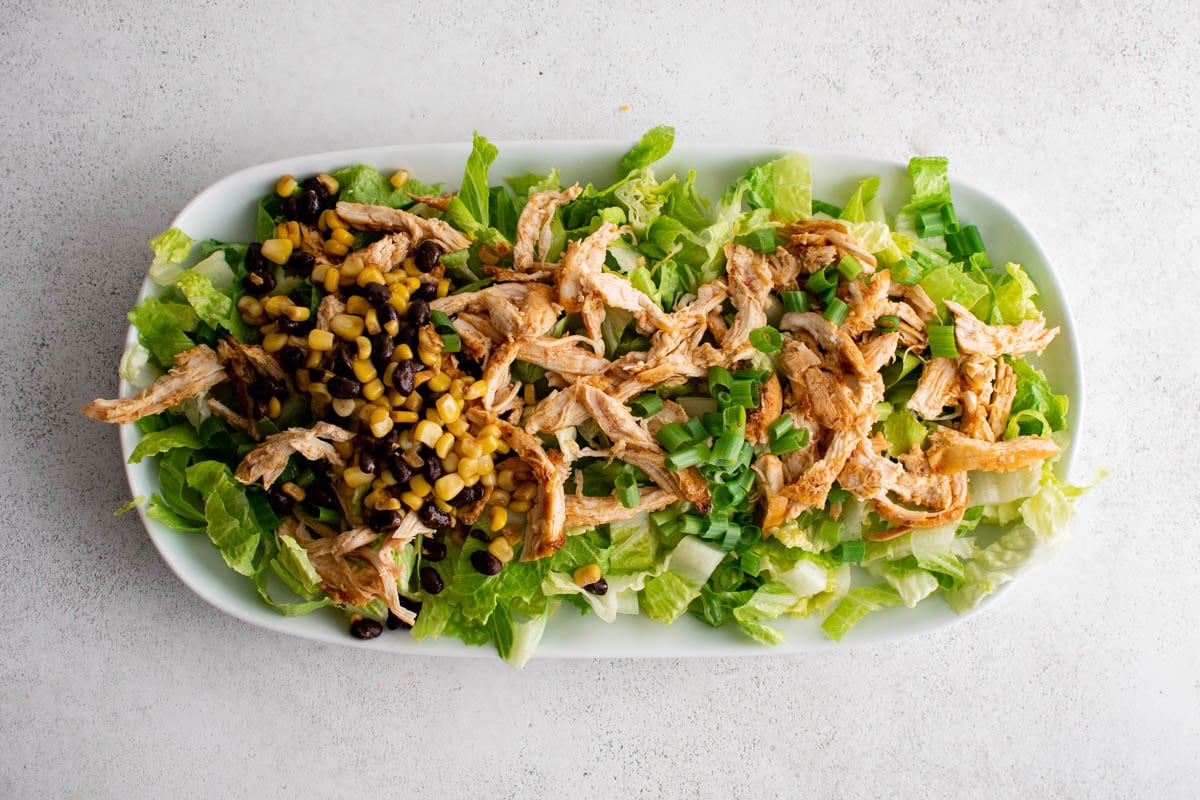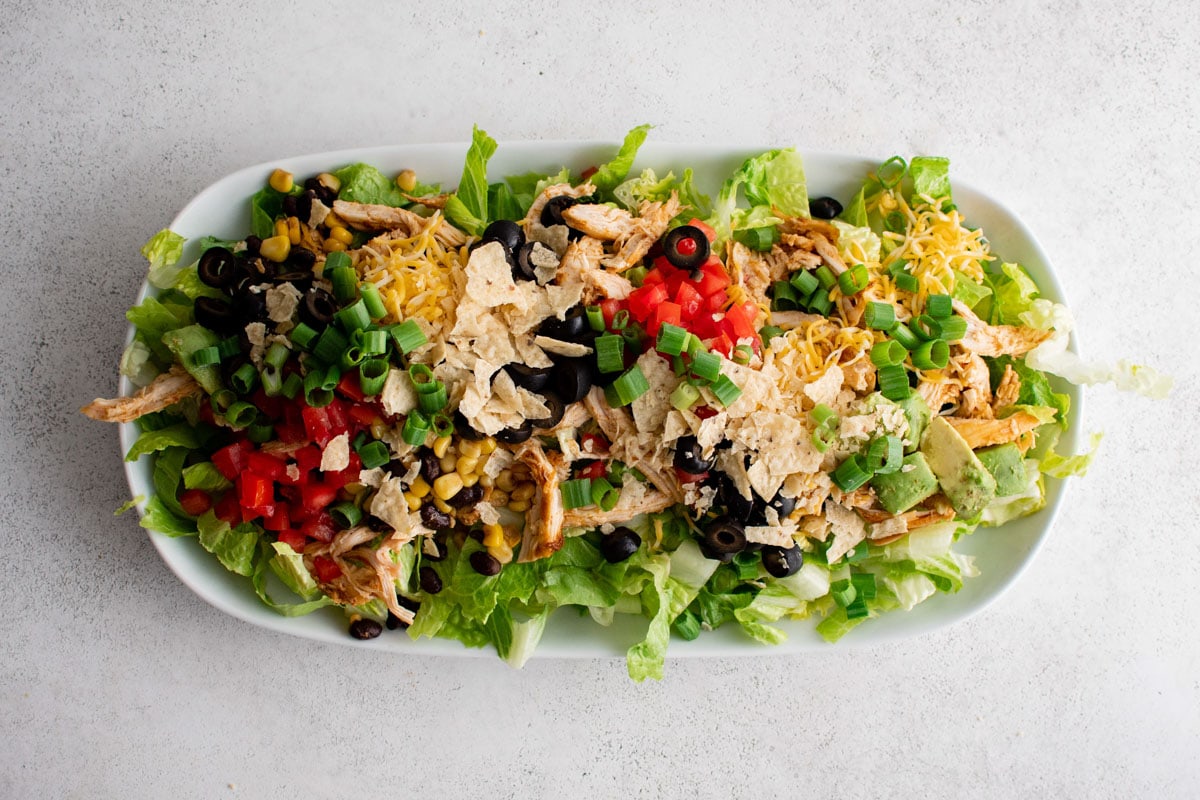 Step 4: On a platter or in a large bowl, layer lettuce and all the various toppings. Drizzle with some of the dressing. Toss now or let your guests serve themselves. Serve with extra chips and lime wedges on the side.
FAQs
What ingredients are typically found in a taco chicken salad?
It usually includes ingredients such as lettuce, shredded chicken, tomatoes, creamy avocado, shredded cheddar cheese, and tortilla chips. Other common ingredients may include beans, corn, onions, cilantro, and various spices.
Can I make a this salad in advance?
You can make a taco salad in advance, but it's best to wait to add the dressing and tortilla chips until just before serving. Otherwise, the salad may become soggy.
What kind of dressing should I use?
A common dressing for a this Mexican style salad is a creamy cilantro-lime dressing, but you can also use a vinaigrette or a salsa-based dressing.
Can I use a different kind of protein?
Yes, you can use a different kind of protein such as ground beef, shrimp, or tofu. You can also omit the protein altogether for a vegetarian version.
Is a chicken taco salad healthy?
It can be a healthy option if you use fresh, whole ingredients and control your portions. You can also make modifications such as using grilled chicken instead of fried, using a low-fat dressing, and omitting or reducing the amount of cheese or tortilla chips.
Variations
One of the best things about this salad is its versatility. You can customize the ingredients to your liking, and add or subtract any toppings you prefer.
For example, you could swap out the chicken for beef or shrimp, or add avocado, corn, or salsa for extra flavor. You could also switch the dressing to a creamy cilantro lime or a spicy chipotle ranch. The possibilities are endless, and the result is always delicious.
Plus, it's a great way to use any leftover veggies or ingredients you have on hand.
Make Ahead and Storage
Storing leftover salad is relatively easy. Here are some tips to help you properly store it:
Refrigerate: Store leftover salad in an airtight container in the refrigerator. Make sure to keep the container chilled at a temperature of 40°F or lower.
Separate ingredients: If possible, separate the dressing, chicken, and tortilla chips from the other salad ingredients. This will prevent the salad from becoming too soggy.
Add dressing before serving: Dressing can cause the salad to become soggy if added too early, so it's best to wait and add it just before serving.
Don't store for too long: Moat salads are best eaten within 2-3 days of preparation. Any longer than that, the ingredients can begin to lose their freshness and texture.
By following these tips, you can help ensure your salad stays fresh and delicious for as long as possible.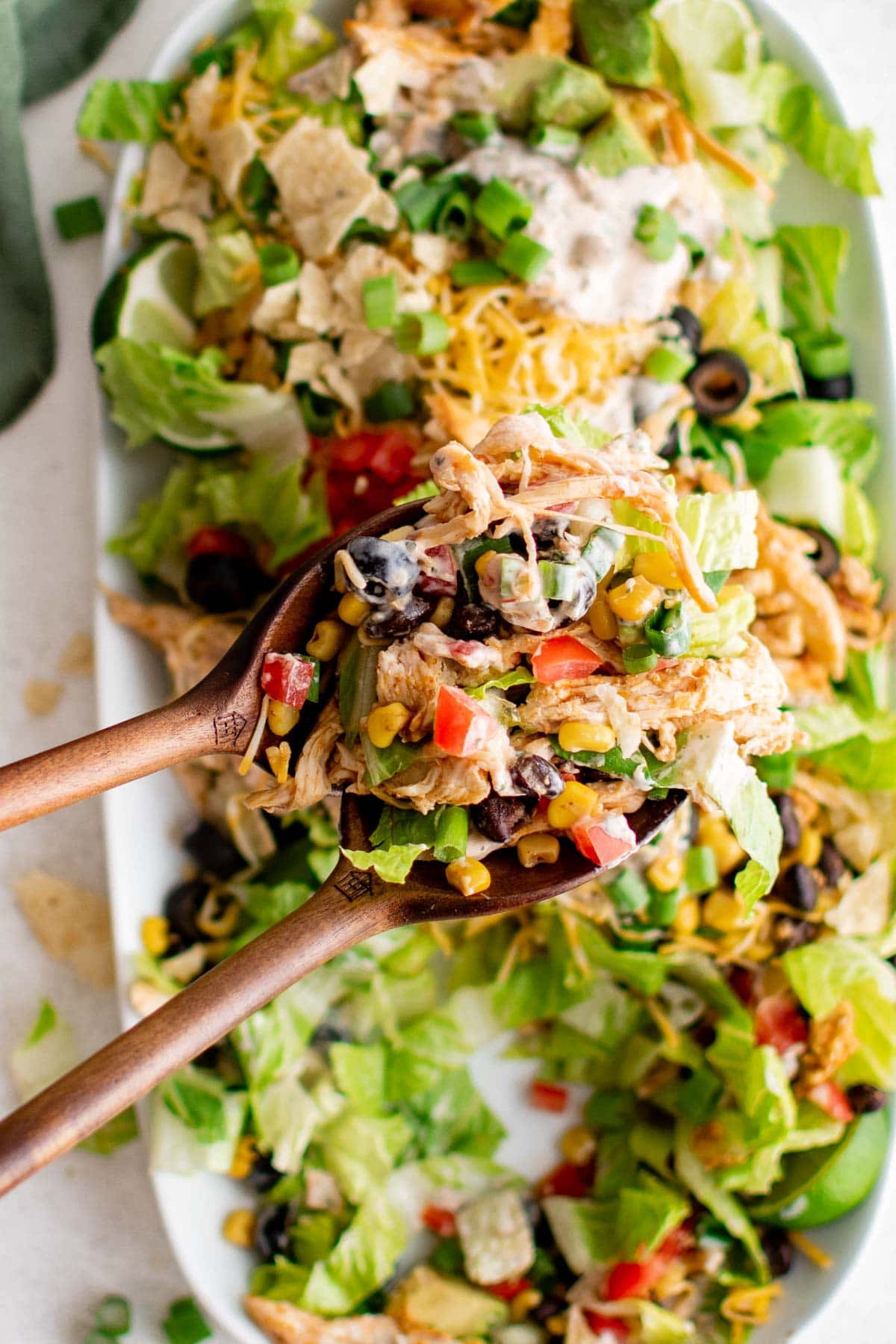 Expert Tips
Whether you shred or dice your chicken is up to you, keep in mind that the pieces should be bite-sized and mimic the rest of the ingredients.
If you tend to make a lot of homemade dressing like I do, it's helpful to have a salad dressing shaker on hand to make it easy to emulsify and store.
While I always say that freshly grated cheese is better than anything you can get in a bag, since you're not melting it, you could use pre-shredded for this. But the flavor isn't as good as fresh.
If you're not a fan of Ranch dressing, you can omit it from the dressing and just use sour cream and salsa for the base. Believe it or not a creamy Italian would be delicious in it's place.
More Salad Recipes
If you've made this recipe, please come back and leave us a star rating or a comment below. Or, tag us on social media @yellowblissroad or #yellowblissroad for a chance to be featured.
Heat a large skillet over medium high heat and add 2 tablespoons of butter and 2 tablespoons of olive oil.

Season chicken breasts with salt and taco seasoning. Place in the hot skillet and cook for about 4 minutes per side or until golden brown and cooked through to 165℉. Set asude. *If they start to get too dark before they are fully cooked, you can finish in a 400℉ oven.

While the chicken is cooking, make the dressing. In a small bowl, whisk salsa, sour cream, ranch and lime juice together until combined. Stir in finely minced cilantro. Set aside.

Transfer chicken to a plate and add corn and black beans to the skillet. Stir to coat with the flavors in the skillet. Once warmed through, remove from heat and transfer to a serving bowl.

On a platter, layer lettuce, cheese, tomatoes, corn, black beans, sliced olives, green onions and avocado. Drizzle or toss with dressing.

Serve with extra chips and lime wedges on the side.
This is a great way to repurpose leftover chicken.
Calories: 723kcalCarbohydrates: 68gProtein: 40gFat: 36gSaturated Fat: 11gPolyunsaturated Fat: 9gMonounsaturated Fat: 13gTrans Fat: 1gCholesterol: 90mgSodium: 1808mgPotassium: 1484mgFiber: 18gSugar: 12gVitamin A: 6141IUVitamin C: 36mgCalcium: 360mgIron: 5mg
Nutrition information provided is an estimate and will vary based on cooking methods and brands of ingredients used.